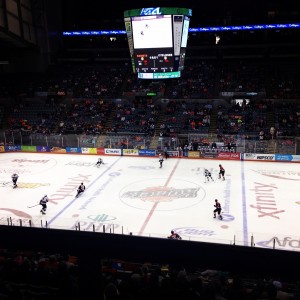 Fall is probably my favorite time of year with boots, scarves, apple cider, sweaters, pumpkin EVERYTHING and s'mores galore being just a few of the things that have made me love when the leaves change colors. Given all of those wonderful things, there's something that makes me even more excited for fall - HOCKEY SEASON! I've said it
before
, and I'll say it again, there's just something about hockey that gets my blood pumping. I don't know if it's manliness of the sport, the fast pace, or the fights (it's probably the fights), but for a girl who will pass on most other sporting events and activities, I always jump at the chance to watch some hockey! On October 18th, the
Fort Wayne Komets
opened their 62nd season, and the words "It's hockey night in Fort Wayne!" are ringing through the arena of the
Allen County War Memorial Coliseum
once again!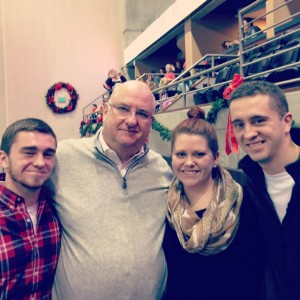 The Fort Wayne Komets have a long, and storied, history here in Fort Wayne. They are the longest running minor league sports team in town, and have provided generations of Komets fans a lifetime of memories. In my family Komet hockey is a tradition! My grandpa has had season tickets for as long as I can remember, and some of my best memories growing up were going to hockey games with him and my brothers. These traditions especially extend to holidays. We never miss the annual Thanksgiving Night game - a huge draw for a number of families who have made Komet hockey a part of their Turkey Day! After eating our Thanksgiving meal, it has always been the tradition for "Katie and the boys" to head to the Komets game. Growing up we also ringing in the new year with the Komets at their annual New Year's Eve game. This is a great game to go to kick off the evening's festivities! As I've grown up going to Komets games, the tradition continues today! I try to make it to all of the Komets games that I can, and always enjoy the time I get to spend with my grandpa. To make it even more special, my husband is a huge hockey and Komet fan, so we hope to carry on the Komet hockey tradition for years to come!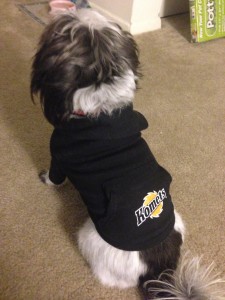 If you didn't grow up loving the Fort Wayne Komets like I did, or are just a casual sports fan, don't miss out on the action in "The Jungle"! Komet games are great for dates, group hangouts, family fun nights and just catching a great hockey game in general. Grab a
bite to eat
before the game to make a night of it! The energy of the crowd will definitely pull you in, and you'll be cheering and booing before you know it! Get into the spirit when you're at a game. Anyone that's been to a sporting event can tell you that the atmosphere is contagious! Cheer and chant along with the crowd when the Komets get a goal. Boo when the refs make a bad call. "Oooo" and "ahhhh" when the game gets close! Over my many years of attending Fort Wayne Komets games I've developed some tips, tricks and favorites when it comes to attending games.
Over the last couple of years the Coliseum has really stepped up their dining options. Beyond the standard sporting event fare, there are a number of specialty options bringing something a little more gourmet and special to the legions of Komet fans. These include Appleseed Burger Co., Slice'D and Wok This Wayne, plus many other delicious eats and treats! Even with all of the great new places to grab a bite, my favorite place to hit up during a game is the Edy's Ice Cream Parlor on the main concourse. You will can find me there between the 2nd and 3rd period getting a kiddie cup of cookies and cream ice cream nearly every game!
Parking at the Coliseum on game night can be a little much, especially when there's another event going on in another area of the building. Patience is key - and makes for a much more pleasant experience! There is plenty of parking in the Coliseum parking lot, but when you have 9,000 people congregating in one place, at the same time, it can be a little rough. We always like to get to the games a little extra early (45-30 minutes before game time) to ensure that we have a smooth time in the parking lot and don't have to battle any traffic. After the games there is a mad dash to the parking lot which not only makes it congested for the cars, but people trying to walk to their cars too. Hang back, relax and take your time! Giving yourself a little extra time before and after will get you in and out of the lot much quicker, while also making it a more calm experience too.
There are plenty of chances to be involved during the games. If you think the kids (or even you) will get a little antsy during the game, the Komets team is excellent at providing a little crowd participation. From games in the crowd and on the ice during intermission, to all of the various fun cams you can get caught on, you'll have fun beyond just the game! To participate in the games you can sign up for a chance to be picked to play before each Komet home game at their info box at the 200 level.
Treat yourself to Premium Seating at least once, it's fantastic. When the Coliseum expanded the arena in the early 2000s, my grandpa upgraded his season tickets to Premium Seating. There are different levels within Premium Seating and we have Club Seats. Club Seats offer a more spacious way to watch a game with extra padded chairs, more leg room and also the ability to order food and drinks right from your seat! While many people rent Club Seats year round for access to during other events held in the arena, these seats are made open to the public four days prior to an event. There are also Luxury Suites available that are great for hosting parties, big families, and company outings. I highly suggest splurging at least one if you can! The Coliseum and Premium Seating staff does an excellent job.
The Fort Wayne Komets kicked off the 2014-2015 season at the Allen County War Memorial Coliseum on Saturday, October 18th against the Indianapolis Fuel. Ticket information can be found on the Coliseum's
website
. For more information on the Fort Wayne Komets check out
Visit Fort Wayne
!