What was one of the greatest toys of your childhood? For me, and many others, it has got to be LEGOs! There are endless possibilities when it comes to creating your LEGO art. Growing up, I always tried to build the coolest house for my LEGO people to live in, while my brother built cars, motorcycles, and rocket ships. There is nothing better that creating that great new toy from nothing but your own imagination and a few LEGOs.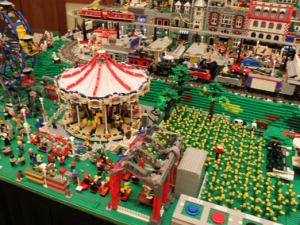 There is no better way to celebrate these great endless possibilities than by attending the North American Brickworld Lego exposition, right here in Fort Wayne. Brickworld will be held at the Grand Wayne Center in Downtown Fort Wayne on Saturday, September 22 from 10am – 6pm and Sunday, September 23 from 10am – 4pm.  Admission is $9 for Adults, $6 for Kids under 10, and free for Kids under 3.
Brickworld will showcase amazing LEGO exhibits from local LEGO enthusiasts as well as some from LEGO artists and engineers from the Midwest region. Come out and see these great LEGO sculptures and displays and enjoy interactive MINDSTORMS® robotic games and playbrick area. This is sure to be an event that you will not want to miss!
And, you can WIN TICKETS! Simply click here to register to win!
For more information visit the Brickworld website.