If you've ever stopped and wondered where your family came from, wonder no more! From August 21-24 family historians and genealogists from around the world will gather at the Grand Wayne Center for the Federation of Genealogical Societies Conference  to learn, research, collaborate and experience the area.
Not a member of FGS? No problem! The public is welcome to visit the free exhibit hall, featuring more than 70 vendors and genealogy societies. Genealogy companies will highlight the latest software, books, databases and gadgets to help FGS conference attendees find their families, and tell their stories. There will also be genealogical and historical societies from all across the country on hand in the exhibit hall to show what they have to offer.
If you are interested in attending any of the 160-plus lectures, banquets, social events and research consultations being offered throughout the conference, you can register on the FGS Conference website to make sure that there is plenty of space for anyone interested. Even if you have a tight schedule, the FGS conference is worth checking out! There are single-day registrations available to fit your needs.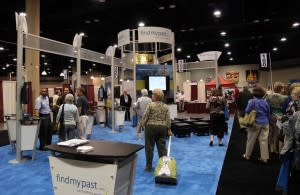 If you have never attempted to trace your history, don't fret. There are plenty of opportunities for beginners to get involved. Beginners can learn about scanning; African American, Polish or German research; how to manage a local society;  how to write-up the results of their work - and much more! There are also workshops for more advanced topics including technology and methodology. If you're not sure what presentation your skill level may fit into, each presentation is identified by its appeal for beginning, intermediate, or advanced genealogists. Several of the speakers are from The Genealogy Center at the Allen County Public Library, which is considered to be one of the premier US research sits for genealogy.
If you are interested in learning more about the Federation of Genealogical Societies conference, you can find frequent updates at the FGS conference blog.