LaSalle Bed & Breakfast
is the perfect blend of history, culture and pampering. Owners Clark and Rose-Aimée Butler have worked hard to preserve this unique establishment, which is Fort Wayne's only B&B. The house, originally built by Tom Snook, is located next door to one of the oldest remaining historical houses in Fort Wayne, the 1842 house of Civil War hero, Sion Bass. The property is nestled in the portion of the West Central Historic District that is listed on the National Register of Historic Places.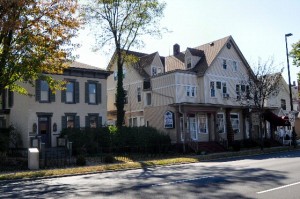 A lovely French theme adds to the charm of this establishment. Clark and Rose-Aimée (a French native) are both fluent in French and share their love of the French culture and language with guests.  The rooms and suites are named and decorated to recall places Rose-Aimée and Clark know well - from the Hollywood Suite to The Paris Room. Of course a B&B is not complete without the other "B." The Butlers take care of their guests with a delicious selection of breakfast items as well. Single rooms start at $50 per night. Single suites run $95 per night. (Add $10 per extra person.) Discounts are available for longer stays, and be sure to ask about their packages. The LaSalle Bed & Breakfast would be perfect for a couple looking for a romantic getaway in a quiet and charming setting, and provides a home-away-from-home for many genealogists enjoying the neighboring Genealogy Library. For more information, call the Butlers at (260) 422-0851 or e-mail
lasallebb@hotmail.com
.