If there's one type of starch my toddler could live on, it's rice: Indian rice, Spanish rice, rice pilaf, fried rice, and even sticky rice with sushi--he's not discriminatory. That's helpful when taking the family out for dinner, since most every cuisine includes some type of rice. One of our recent faves? Koto Japanese Steakhouse & Sushi.
Since the older kids generally have extra-curriculars going on (track, volleyball, baseball, etc...) our youngest usually gets to come out to eat while we wait to pick up his siblings from someplace or another. If you have children, you are probably aware of the "safe time zone" for eating out. We arrive at Koto promptly at 5pm, when the restaurant is empty and the waitstaff is just prepping for the evening. We are seated at a roomy booth in the back (what, do they think this innocent looking two-year old could ever possibly cause a scene?) and are served right away. I select a chilled glass of plum wine (followed by two more, not gonna lie) while my husband chooses a Sapporo Japanese beer (a large--yeah, it's been a long week). The munchkin gets started with Cheerios while we have our delicious clear soup, followed by a crunchy house salad topped with tangy ginger dressing.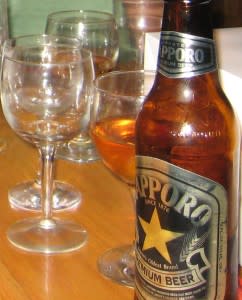 Our main courses arrive soon, as well: a fresh sushi roll combination for Mom (avocado, tuna, and scallion rolls), chicken fried rice for Dad, and what else? Fried rice for the little guy, which he actually attempts to eat with chopsticks. (At least for a few minutes, then switches to a spoon and finally polishes off his bowl by the most efficient fistfuls of rice.) Plus, he also dug into my sushi and really liked the "tuni suchi" best.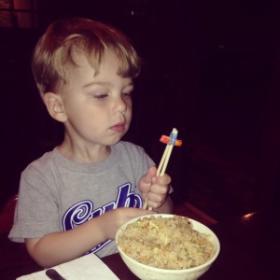 We love to take our children to eat different types of cuisine, and it's proven to be great for all of them--my older ones love to eat things I wouldn't normally serve kids (i.e. steamed artichokes and grilled steak, sushi, curried chicken and lentils, etc.). It's fun to expose them to a variety of foods, and it betters their chances later on of having more sophisticated palettes. Koto is a wonderful Japanese restaurant for the whole family, any night of the week. There is a great dining room, with hibachi grill tables that are perfect for celebratory parties and birthdays, plus a quaint sushi bar where you can see the chef rolling your fresh sushi by hand. We've eaten in all areas of the restaurant, but like the sushi bar best--it's pretty toddler-friendly at early dinner hours. But if anyone actually has the pleasure of dining there at a more adult hour, say after six, could you please let me know what it's like?
Koto Japanese Steakhouse & Sushi Bar
301 E Washington Center Rd, Fort Wayne, IN 46825 (260) 482-4288
kotojapanesesteakhouseandsushi.com