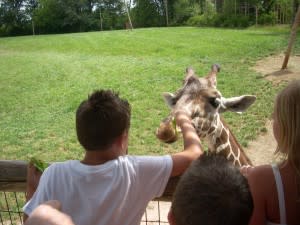 There's a reason the Fort Wayne Children's Zoo has been rated as one of the best children's zoos in the US'. It's so much fun! On a recent visit with a 3-year-old friend we pet a giraffe, watched an alligator have lunch, and rode a pony.

The Fort Wayne Children's Zoo encourages children to have up close and personal visits with its more than 1,000 animals while observing rules of safety. While my husband, little friend and I didn't get in the cages with the lions or tigers or Komodo Dragon, we were separated by only a few feet from most animals. We were practically lip-locking with the giraffe when it was feeding time. He was ready for a hand-fed snack! The alligator feeding was fascinating and gross. The zookeeper may have said the female alligator was named Chelsea (the male was called Ron). During the scheduled feeding demonstration time, Chelsea moved across the grass of her compound toward the target—a large white rat dangling from a long pole across a fence. Another zookeeper held the pole on the other side of the fence. Chelsea lunged toward the rat before snagging and swallowing it.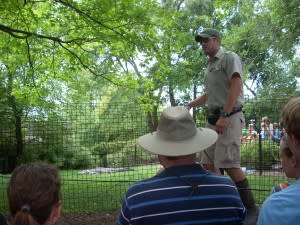 While Chelsea was working for her lunch, Ron didn't move from his position on the grass, content to let his better half enjoy the delectables. In the Family Farm area we petted a black and white bunny. It had the softest fur I have ever felt. My little friend enjoyed it too.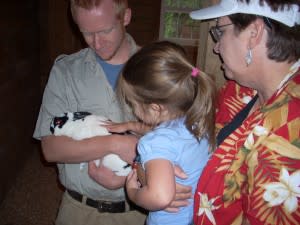 Even though it was Zoo Membership Day, meaning everyone who had purchased a season ticket could attend the zoo and party held at Franke Park, the zoo was thankfully not too crowded. Walkways are wide and except for the train and water rides, lines were not long. At home our little gal was so excited about our trip to the zoo that she wanted to read books about animals that evening, an activity we were glad to encourage. The Fort Wayne Children's Zoo is an educational and fun way to teach preschoolers about animals through exhibits, demonstrations and interactions. The zoo closes for the season o October 13 so you've still got plenty of time to get there. Put it on the calendar and make a memory. To find out more about the Fort Wayne Children's Zoo, check out Visit Fort Wayne or the zoo's website.