After a long and cold winter, there's nothing better than getting the kids outside to explore! And Fort Wayne, Indiana has plenty of activities to keep junior biologists busy. Read on to learn about some of the opportunities that are ready for your kids to explore outdoors in Fort Wayne, Indiana this spring.
Hands-On Exploration for the Young
Saturday Morning Hikes
At Lindenwood Nature Preserve, join the guided hike on Saturday, July 10 (9am - 10am) and August 14 (10am - 11am). Each hike will begin in the parking lot, and a guide will lead you through the preserve. Discussion during the hike will cover local ecology and broader biology topics. Pre-registration is required for this free event. This hike is open to all ages.
Fox Kit Club
Specifically designed for preschoolers and their teachers or parents, this event helps young naturalists explore Fox Island County Park to read a story and then take a hike focusing on a theme that correlates with the seasonal changes in the park. Pre-register at least five days before the event by calling 260-449-3180. Teachers are admission free, adults $2, children $3. The next club gathering is scheduled for September 14, 2021 at 12:30PM.
Storytime at the Zoo
Starting May 28, the Fort Wayne Children's Zoo will host a story time every Tuesday and Wednesday evening from 6-6:30 p.m. Expect an animal-themed story, some singing, and a visit from one of the ambassador animals from the Zoo. This program is designed for those 5 and under and is free with regular zoo admission.
Kids for Nature Summer Camp
At the Fort Wayne Children's Zoo, there's a variety of age group-specific adventures young folks can take - with their caregivers - to interact with animals and go behind the scenes. Zoo Explorers is the program for those age 3 with a parent – who get a free t-shirt, too! Zoo Buddies is for those age 4 and a caregiver, and each child will get a stuffed zoo buddy! For kids ages 4 and 5, there are the Animal Alphabet and the Number Safari, two different programs that include some good-to-know skills for the budding scholar. Sessions begin June 10, and spaces are limited so registering early is highly recommended!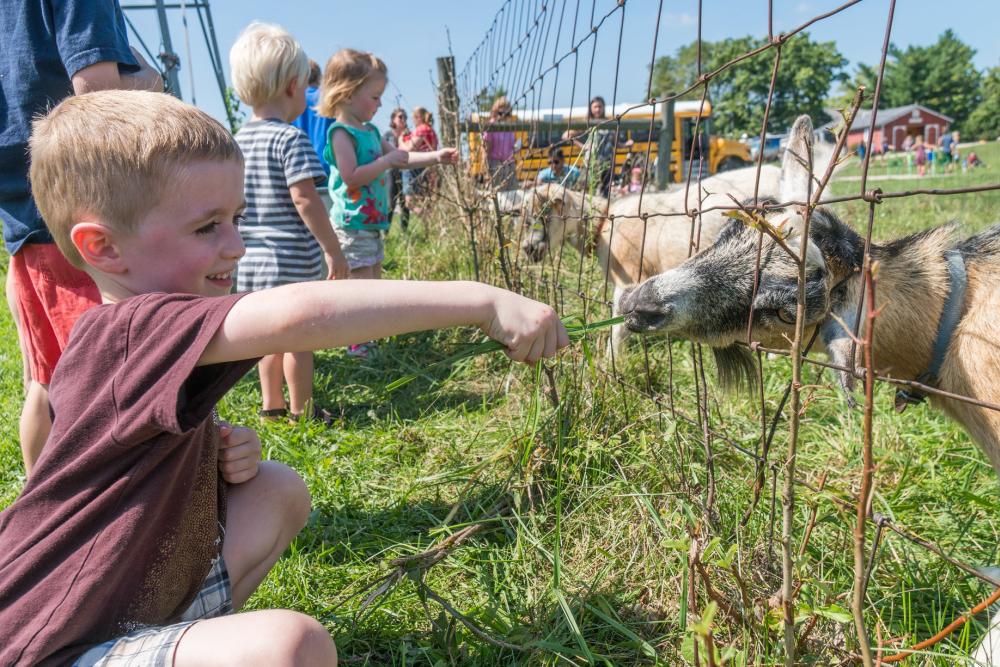 Play Dates with Rabbits, Goats and Chickens
Starting April 29 from 10 a.m. – 11 a.m., stop by Salomon Farm Park for a special meet-and-greet to see a new furry friend! During each interactive play class, participants will learn to make special treats for the animal of the day and get to know their new furry – or feathery – friend. It is designed for kids ages 3-6, and each day has a specific animal to meet. Registration is required at least 5 days before each event. 
Hands-On Exploration for the Teens
Fishing
If you've always wanted to go fishing, then this is your chance. Young anglers – or those who want to try it, at least – are invited to Salomon Farm Park on April 13 and May 11. Safety on the water, how to tie a fishing line, and how to handle fish are all topics covered during this event. Equipment is provided, but participants are welcome to bring their own. Registration is April 5 and May 3, respectively. Each session costs $15 per participant, lasts from noon – 2 p.m. and is open to kids ages 8-14.
Spring Break at the Zoo
Choose to come one or all three days, starting Tuesday, April 2, to walk through the Fort Wayne Children's Zoo learning about animal fur, scales and other wardrobe necessities; animal movement; and the camouflage of the animal world. Participants will walk through the zoo, indoors and out (and explore the animal Commissary) rain or shine. Dress for the weather, and bring a sack lunch and something to hydrate yourself. This program is for kids ages 6-12 and lasts from 8:30 a.m. – 3 p.m.
Kids for Nature Summer Camp
While there are programs for the younger set, the Fort Wayne Children's Zoo has courses for older kids, too, such as the Zoo Artists program (for ages 8-10) or Animal Training 101 (ages 11-12) that will offer plenty for your middle school student to learn. Early registration is recommended. Classes begin June 3 or later, depending on the program.
And … Do-It-Yourself Fun
If you aren't quite finding the right program to participate, then just check out one of Fort Wayne's 86 different parks. With three aquatic centers (i.e. swimming pools) and nine splash pads, not to mention the 57 playgrounds across the city, there should be something that tickles your family's fancy to get outside and enjoy the green