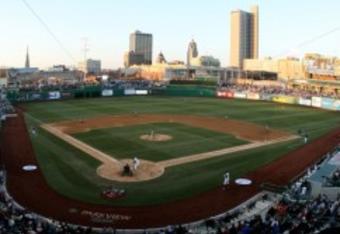 It's no secret that we here in Fort Wayne have endured a long and arduous winter. Piles upon piles of snow, too many school delays and closures to count and, if you're like me, you have kids (and moms!) who are sick of being indoors!  Not to worry, spring is slowly beginning to arrive, and with it, many excellent outdoor adventures await. Below are just a few that are on my family's list.
TinCaps! Fort Wayne Tin Caps games are fun for the whole family. In fact, whenever I have friends and family visiting from out of town this time of year, a Tin Caps game is always on the agenda. Parkview Field is jam-packed with kid-friendly activities, not to mention the great baseball team! Tickets start at just $5, and there are many different choices when it comes to food and drink. Bring some blankets and relax on the lawn, grab a traditonal seat or lounge around in one of the many other spacious areas. Opening Night:  The Tin Caps kick off their 2014 season on Thursday, April 3, 2014 Parkview Field is located at 1301 Ewing St, Fort Wayne, Indiana 46802 Call: (260) 482-6400  
The Fort Wayne Children's Zoo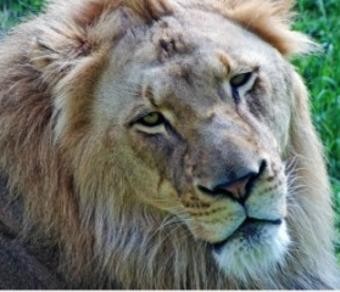 This one is a given, no matter what. Opening day is Saturday, April 26, 2014. The zoo is a local and regional favorite, voted Indiana's #1 summer attraction in 2012. It is spacious, green and lush, with 38 acres of fun. You can feed the giraffes, take a ride over the African Safari and, my personal favorite, hang out with the orangutans in the Indonesian Rainforest.  A special activity the very next day, Sunday, April 27th,  is the Party for the Planet, where kids can take part in various earth-friendly activities from noon until 3:00 p.m. The zoo has plenty of vendors throughout to ensure that you can spend the whole day there without a care in the world. If you've never been, what are you waiting for?? Plan your trip to the zoo by visiting here.
Date: Opens for the season on Saturday, April 26, 2014 Place: 3411 Sherman Boulevard, Fort Wayne, IN   46808 Call: (260) 427-6800 Cost: $14.00 Adults/ $10.50 Seniors 60+/ $9.00 Children (2-18)/  Babies age 1 & under free  
Earth Day Fort Wayne at Eagle Marsh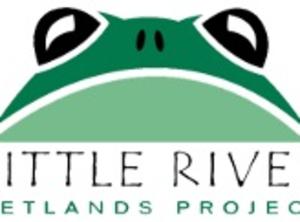 My kids and I checked this out for the first time last year, and it was a major hit! This family-friendly event features displays by local conservation and nature groups, educational activities at stations along a trail through the Marsh, conservation presentations,  planting of native plants, a farmers' market and best of all, hawks and owls from the Soarin' Hawk Raptor Rescue.
Eagle Marsh, a part of the Little River Wetlands Project,  is a 716-acre wetland preserve located on the southwest border of the city. Eight miles of trails allow hikers to access the preserve's varied habitats of shallow-water wetland,with almost 200 kinds of birds and numerous other wild creatures including bald eagles.
Date: Sunday, April 27, 2014 Time: 1:00 p.m. to 5:00p.m. Place: Eagle Marsh, 6801 Engle Road, Fort Wayne, IN   46804 Cost: Free  
The 3rd Annual Fort 4 Fitness Spring Cycle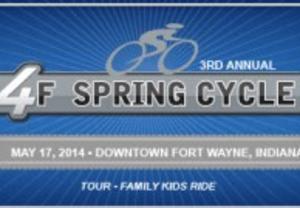 Bring the bikes out of the garage, basement, or wherever they have been gathering dust this winter, and get ready for some healthy fun for everyone! The Spring Cycle is for the whole family and is the perfect way to kickstart an active season. Date: Saturday, May 17, 2014 Time: Begins at 9:30 a.m Place: 300 E. Main at Arts United campus Choose from Three Tours:  Short - 18 miles; Medium  - 33 miles; Long - 43 miles Register: March 1, 2014 - May 14, 2014 Cost: Ages 17 & over - $20/  Ages 12-16 - $10/ Ages 11 and under - Free  
Foster Park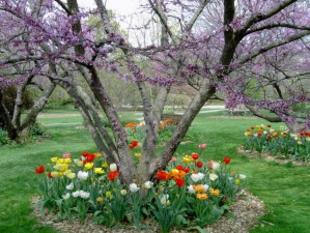 And, finally, the place where my family seems to end up on most spring days- Foster Park. Foster Park is located just southwest of downtown, at 3900 Old Mill Road.
Its 255 acres include a golf course, walking trails, tennis and basketball courts, pavilions and a playground. Around April, the park comes alive with brilliant swaths of color as the tulips, daffodils and other flowers begin to bloom. Foster Park is truly an oasis!
For even more springy ideas, check out suggestions from Visit Fort Wayne here!