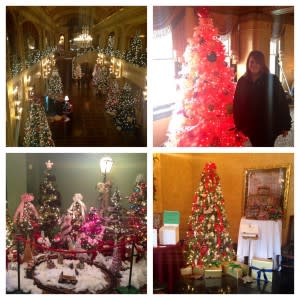 There's something magical about the holiday season. Everyone is a little cheerier, the cold weather feels more festive than troublesome, houses are decked out in twinkling lights, and Christmas trees are put up and decorated for all to see. To top it all off, Fort Wayne goes all out to usher in the holiday season. From the big Holidayfest kickoff at the Night of Lights, to the illuminated displays you'll find around town all throughout the season, Fort Wayne is doing it right! Out of all of the great events you'll find throughout Holidayfest, the Embassy Theatre Festival of Trees is by far my favorite, and it will be yours too! Each year the Embassy Theatre puts on the Festival of Trees - a festival where trees of all shapes and sizes are decorated elaborately in celebration of the holiday season. While the Festival of Trees is a wonderful display of all things wondrous and magical, it also serves a bigger purpose. Since its start in 1984, the Embassy Festival of Trees has served as a community goodwill event that supports the continuous operational and restoration efforts of the Embassy Theatre Foundation, Inc.. Each intricately, and sometimes gloriously over the top, tree is decorated and/or sponsored by a local group or business, adding even more the true community feel of the event. This is one of Fort Wayne's favorite holiday festivals, hands down! Year after year, more and more people are discovering the fun and beauty that is the Festival of Trees. Not only are there gaggles of intricately decorated trees all around the Embassy Theatre and Indiana Hotel lobby, but there are also live performances from some of the areas most talented singers, dancers and musicians. I can guarantee that even the most Grinch-like person will be transformed after walking through the magical hallways filled with holiday cheer (and lights and glitter and ribbon!).

The Embassy Theatre Festival of Trees kicks off on downtown Fort Wayne's Night of Lights on November, 26th, and continues through Wednesday, December 3rd. While the window to attend the festival is limited, it is worth working it into your plans!

The full schedule for the Festival of Trees is as follows: Night of Lights, Wed., Nov. 26, 6-9 p.m. Thurs., Nov. 27, 4-8 p.m. (featuring Grande Page Organ music) Fri.-Sun., Nov. 28- Nov. 30, 12-8 p.m. (youth entertainment on the Embassy stage) Mon., Dec. 1, 9 a.m.-1 p.m. Senior Day (open to the public, special information for Seniors) Tues., Dec. 2, 9 a.m.-1 p.m. Wed., Dec. 3, 9 a.m. – 1 p.m. Tots and Trees (open to the public, special activities for kids)

Don't miss out! Make the Festival of Trees a new tradition with your family and friends! Admission to the festival is $7 for adults and $3 for children ages 4-12. Children 3 and under are FREE. For ticket information call the Embassy Theatre box office at 800.745.3000, or visit ticketmaster. For more information on the Festival of Trees, and all of the other great Holidayfest events, check out Visit Fort Wayne.