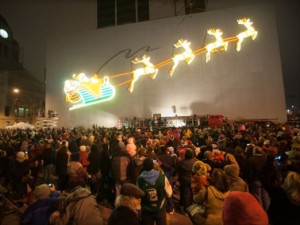 One of the biggest memories I have from my childhood is going downtown to look at the big Santa with his Reindeer on the side of the (now) PNC building on Christmas Eve - snow on the ground, hot chocolate in my little hands, and oo-ing and ahh-ing with my brothers about the twinkling lights. Another tradition I remember fondly is going to the Night of Lights to watch downtown Fort Wayne transform into a holiday wonderland. It is a tradition I hope to continue someday in the future when I have a family of my own, and is a wonderful tradition for downtown Fort Wayne. Night of Lights is the annual lighting ceremony in downtown Fort Wayne that traditionally takes place the night before Thanksgiving. It is a great family tradition to start (or continue), and I'm lucky that I have a fiance that gives into my desire to continue my childhood memories and make it a fun little date night. This year the Night of Lights is on Wednesday, November 26. There is so much to choose from that you can do - from different lighting ceremonies to various events and activities. This makes for a little planning to be involved in order to navigate the crowds, and make the most of this fun and festive night. I personally choose 2 or 3 lighting ceremonies to enjoy, and also try to stop by some of the shops and attractions that are open. If the lines aren't too crazy, we'll grab a bite to eat too. My personal favorites (and must-sees!) are Santa and his Reindeer on the side of the PNC building, the wreath at One Summit Square, and the Parkview Field fireworks. In between those three we'll stop by places like the Grand Wayne for their Holiday Open House and hunt for warmth and hot chocolate! I just love walking around and seeing all of the pretty lights and everyone enjoying downtown Fort Wayne! Here are a couple of tips and tricks I've picked up over the year's: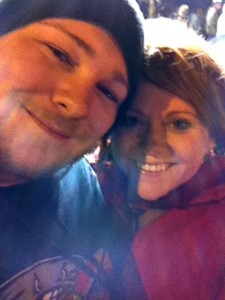 Get downtown early no matter what your game plan is! We've been lucky enough each year to get a spot in the parking garage right off of Main and Calhoun, but it fillsup fast. Also, people are all really anxious and ready to find a parking spot and get the show on the road. So, if you find yourself waiting in a long-line or driving in circles around various city blocks - BREATHE!
Don't miss out on the other lights. Just because you don't watch some of the other lighting ceremonies, don't forget to stroll past the other great displays downtown either after you have made your way around NOL, or at a later date when you can relax more and enjoy!
Eat downtown, but be mindful of the crowds. I do believe that every person in Fort Wayne coming downtown for Night of Lights has one thing on their minds - Coney Island hot dogs! The line is often wrapped around the building, and your chances of sitting down are slim to none unless you watch tables like a hawk. Of course, they are well worth it! I recommend getting your coneys to go and enjoying them at home while cozying up with some Christmas movies, or checking out some of the other great downtown eateries like Pint & Slice, Henry's, and Dash-In.
Take it all in! I don't want to be repetitive or sound too cheesy, but there really is something magical about Night of Lights. For myself, and my family, the memories of this tradition are some of the best I have, and I suggest you make it a part of you and your family's/significant others/friends' traditions as well! Make a whole night of it and enjoy the start of the holiday season!
Here is the full Night of Lights Schedule
: 5:15pm    History Center Turret Lighting (Barr Street) 5:30pm    USF Performing Arts Center Nativity and Wreath Lighting (Berry Street) 5:45pm    Aunt Millie's Northern Lights (Pearl Street) 6:00pm    Community Center Santa's Workshop Display (Main Street) 6:15pm    Santa and his Reindeer lighting at PNC with Mayor Tom Henry, Santa and special guests  (Main and Calhoun Streets) 6:45pm    Wells Fargo Happy Holidays Display and Indiana Michigan Power Merry Christmas Wreath (Wayne and Calhoun Streets) 7:15pm    Botanical Conservatory & Animated Holiday Windows at the Embassy Theatre (Harrison Street) 7:45pm    Parkview Field Fireworks (Jefferson and Webster) For more information on Night of Lights, or any of the other HolidayFest activities going on throughout the holiday season, check out
Visit Fort Wayne
, or the HolidayFest
website
.