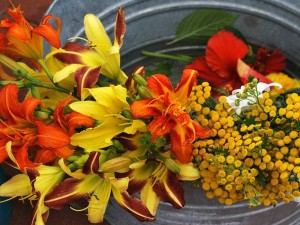 Summer is here, so treat yourself to farm-fresh produce and so much more! Fort Wayne offers a wide variety of farmer's markets you won't want to miss.
Clinton Street Market:
Open now through October, customers can check out this market from 4 p.m.-7 p.m. on Fridays and 8 a.m.-1 p.m. on Saturdays.
East State Village Farmer's Market:
Located at the Tecumseh Library Plaza at 1411 E. State Blvd., this Saturday afternoon market is a neighborhood favorite! Get fresh fruits and veggies here now through Oct. 23.
Main Street Farmer's Market:
This farmer's market offers live music and art work to go along with their produce and baked goods. Check it out on Fridays from 3 p.m.-8 p.m. at 1936 W. Main Street.
Salomon Farmer's Market:
Check out Salomon's wide variety of organic produce, baked goods, honey, syrup, soaps and lotions. Bring the whole family to enjoy live music, hands-on projects and the Salomon Farm animals! Salomon Farm's Farmers Market is open from 4 p.m.-7 p.m. from now until Oct. 5.
Southside Farmer's Market:
Spice up your Saturdays with fresh herbs to go with your fresh produce and meats from Southside Farmer's Market. Located at 3300 Warsaw Street, this market also offers those with a green thumb the opportunity to pick up plants and flowers weekly from 7 a.m.- 1 p.m.
Barr Street Market:
Take a trip downtown to snatch up fresh produce and local artwork! Barr Street Market will be open from 9 a.m.-1 p.m. every Saturday morning starting July 9 and running through Sept. 24.