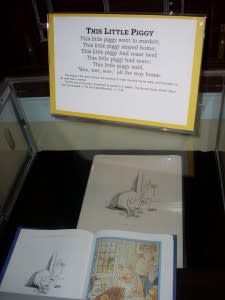 I love the current exhibit at the Karpeles Museum in Fort Wayne. You've not heard of the Karpeles Museum? You didn't know that Fort Wayne is one of the dozen or so cities in the US that houses traveling themed exhibits of unique historic documents? Or that these historic documents can be viewed by the public for FREE? The Karpeles Library is the world's largest private holdings of important original manuscripts and documents. Handwritten letters, contracts, notes, novels, drawings are all part of the collection. What makes this a unique collection and not just a raid of someone's attic is that the items are written by well-known people. I've seen documents written by Abraham Lincoln, Mark Twain, Harry Houdini, Sir Arthur Conan Doyle and other world leaders, entertainers, inventors, authors, all right here in Fort Wayne.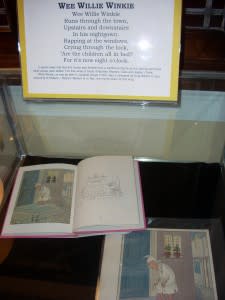 There are only a dozen Karpeles Museums in the US so Fort Wayne is blessed to have been chosen! The documents have been collected since the 1970s and are lent to the public on temporary basis for their education. Exhibits of 26 cases are changed at each Karpeles Museum four times each year.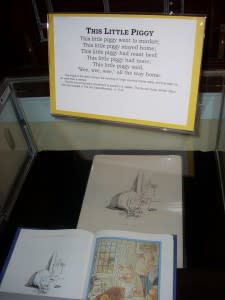 The current exhibit features a collection of nursery rhyme documents. Did you know Louisa May Alcott, author of Little Women and Little Men, wrote a  story about Jack & Jill? A page from it is on display. The typed information included with each item provides a little explanation. Apparently many people believe nursery rhymes were written to obliquely reflect the political and social climates at the time. For example, the rhyme called Ring around the Rosies (1881) could have been written in reference to the Great Plague which caused such destruction among the lower classes. There's a page from the story The House that Jack Built written and published in 1750 by famed children's author John Newberry. As an author, this exhibit of children's book excerpts was especially interesting to me. But then most of them displays are interesting as I like history and knowing people actually handled those items.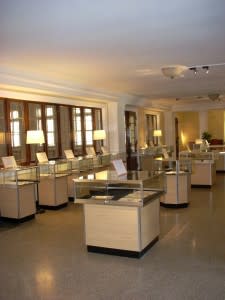 The nursery rhyme collection is on display until the end of August. The next collection will focus on the early Civil War years of 1858-1862. Items to be included could have connection to Abraham Lincoln, and abolitionists like John Brown. Don't forget to check out the other building connected to the Karpeles library. Located at Piqua Ave., it houses a wide array of maps. The Karpeles is located in the front gallery of the majestic-looking former Christian Science Church building at 2410 Fairfield Ave. The 14,000-square-foot building built in 1927 is beautiful with palladium design and horsehair plaster can be seen throughout. Parking is available behind the building and on Pierce Street. Hours for the museum are 10:00 a.m.—4:00 p.m., Tuesday through Saturday. Closed on holidays. This is a great place for a school field trip or other groups as there is no cost to enter this Karpeles museum. The museum director, Lisa Olinger, provides interesting tours, but most of the time visitors travel from case to case on their own. 260.456.6929 www.Karpeles.com