One of Fort Wayne's most unique discoveries is the Karpeles Manuscript Library Museum, located on Fort Wayne's south side at 3039 Piqua Avenue. The
Karpeles Library
is the world's largest private holding of important original manuscripts and documents. Better yet, admission is free!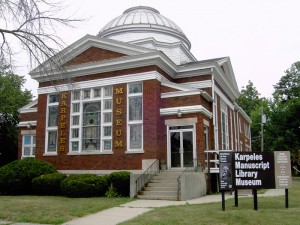 Exhibits are changed at the Karpeles four times each year. The current exhibit, which continues through December 29, 2011, features the following:
A document signed by Theodore Roosevelt on April 19, 1906, as the original draft of the first Presidential Disaster Proclamation for the San Francisco earthquake which occurred a day earlier
Copy of the Treaty of Versailles (1919)
Contract signed by Thomas Edison
Essay by British playwright George Bernard Shaw (1940s)
Document written by philanthropist Andrew Carnegie (1914)
Mark Twain's penned dramatic presentation of his play '1,002 Arabian Nights' (1883)
Letter written by Siamese twins Chang & Eng (1800s)
Chapter outline for the first six chapters of Charles Dickens' novel, David Copperfield
Letters written by US Presidents McKinley, Herbert Hoover and Taft Correspondences by World War II Army officer John Pershing; American nurse Clara Barton (1895).
There is even a handwritten letter by President Abraham Lincoln – he had beautiful penmanship! — in which Lincoln appoints an American minister to the Pope (1862). Fort Wayne is one of only a handful of cities through the US that has been blessed with a Karpeles Museum. Do yourself a favor and drop by the Karpeles. Better yet, take a young person with you so he/she can view some of history's most interesting documents. Hours of Operation Tuesday-Saturday 10:00 am - 4:00 pm Closed Holidays
Karpeles Manuscript Library
- - 260.456.6929