Joseph Decuis
, located just 15 miles south of Fort Wayne in Roanoke, returns guests to the days of fresh, home cooked meals made with local ingredients. This "farm-to-fork" approach is a gastronomical treat for anyone looking for an alternative to mass produced, on-the-go dining. Joseph Decuis offers a restaurant, emporium and inn all on site. I suggest checking out the Four Diamond restaurant for the full dining experience. In December 2010 Joseph Decuis was named one of the top 50 restaurants in the United States based upon customer reviews by OpenTable.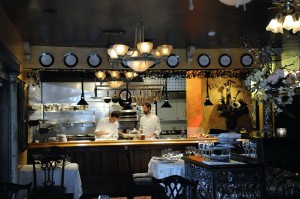 The menu boasts seasonal dishes with ingredients raised on their farm and other local farms, artistically prepared by talented chefs. Their Wagyu beef is a delicacy. Joseph Decuis is the only restaurant in the United States raising Wagyu beef, employing the all-natural, humane Japanese husbandry practices taught by the legendary Wagyu farmer, Mr. Shogo Takeda. Entrees range from $22 to $40. The scenery is just as enjoyable as the food. The heart of the restaurant is housed in an old bank building. This historical landscape conjures up feelings of simpler times. No doubt you'll enjoy a fine meal, superb service in a unique atmosphere. Reservations are encouraged.  To book your reservation, 
click here
to choose from available seating times, or call them at (260)-672-1715
.
Dinner Hours are
5:30 to 10pm, Monday thru Saturday.