I've long been a fan of stand-up comedy. As a kid, I watched hour after hour of stand-up – from MTV's
Half Hour Comedy Hour
to
The Tonight Show
to HBO's
One Night Stand
and countless comedy specials. By the mid-Nineties, when I finally got Comedy Central, I was in stand-up heaven. It was actually in a stand-up special on Comedy Central way back in 2000 that I was first introduced to one of my favorite comedians, Jim Gaffigan, who will be appearing at the Embassy Theatre in Fort Wayne, Indiana, on Saturday, March 24.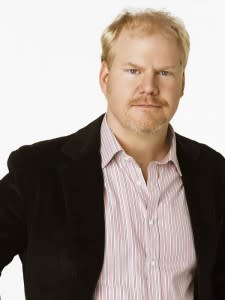 Jim Gaffigan is a guy with whom most of you are probably familiar. Born and raised in Chesterton, Indiana, he's appeared on TV shows like
That '70s Show
,
My Boys
, and
Law & Order
and in films
Super Troopers
(a personal favorite),
Away We Go
, and
Going the Distance
. He has a deadpan delivery that makes even the most mundane topics, like food – about which he talks
a lot
– absolutely hilarious. If you've ever heard someone randomly sing the "Hot Pockets" jingle, you have Jim Gaffigan to thank. Tickets are still available for both the 7:00 p.m. and the 9:30 p.m. shows; ticket prices range from $37.25 to $47.25 and are available at the Embassy Theatre box office or at
www.ticketmaster.com
. Fees may apply.