The Johnny Appleseed Festival returns to Fort Wayne for its 38th year on Saturday, September 15, and Sunday, September 16, at Johnny Appleseed and Archer Parks. From its humble beginnings with only 20 vendors to its over 200 vendors today, Johnny Appleseed Festival has always honored John Chapman, better known as Johnny Appleseed. Chapman traveled the countryside in the mid-1800s, spreading appleseeds and planting orchards. He became a national folk hero in the process and his gravesite memorial is located right here in Fort Wayne in the park that bears his name. The Johnny Appleseed Festival has long been one of my favorite Fort Wayne events, showcasing the life of the mid-1800 pioneers and offering plenty to see and do from antiques and primitives to crafts and demonstrations. Free entertainment abounds with cloggers, music, speech reenactments, roving entertainers and more. There's even a children's area featuring a straw maze, face painting, and crafts.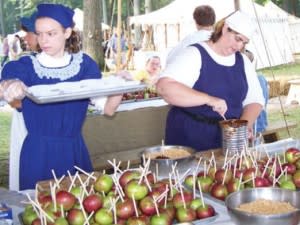 My favorite aspect of the event is the food. Just like the entertainment and antiques, it is influenced by the time period, and everything must be prepared in the methods employed during the mid-1800s: cooking over wood  or coal fires. The food must be era appropriate, as well. If you are looking for elephant ears and fried Twinkies, this isn't the festival for you. What you'll find is chicken, cooked over an open fire grill; ham and beans with freshly made cornbread; grilled turkey legs; and buffalo burgers, to name a few. The first summer after we moved here, my husband and I visited Johnny Appleseed Festival and had the ham and beans; we've been back for them every year... they really are that good. That year I also sampled homemade sassafras, served in a cold tin mug, and it's another treat I come back for year after year. Yummy! Perhaps the best part about the food experience is watching the vendors prepare it. Since it's an open-air event, you can witness the fresh caramel corn being cooked up in giant cast iron kettles or observe how chicken and dumplings are prepared and served. I can smell it all just thinking about it. That's another benefit... the smells that waft through the Festival as the vendors prepare the food. Of course, I'd be remiss if I didn't mention the apples. Not only is there wide selection of fresh apples available for purchase, but festival goers may sample apple dumplings, caramel apples, fried apples, and cider, as well. If it can be made from apples, it's probably featured at the Festival. If you haven't made plans to visit Johnny Appleseed Festival this year, do so today. It's a family-friendly, free event and truly offers something for everyone, especially foodies. For more information, visit the
Johnny Appleseed Festival
website.