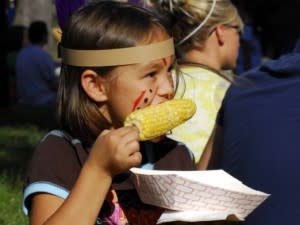 The 39th Johnny Appleseed Festival is Fort Wayne's big shout-out for the return of warm autumn days and pleasantly cool evenings.
An extremely popular celebration each year, the free al fresco event takes place September 21-22, 2013 at the Johnny Appleseed Park and features a nostalgic (and delicious) return to the past with a contemporary twist or two.  Sponsored by the Fort Wayne Parks & Recreation Department, Settlers, Inc. and Theta Chapter of Psi Iota Xi Sorority and with the contributions of many local groups and businesses, the occasion highlights such offerings as a children's area, roving and still entertainment, demonstrators, farmer's market, food booths, trappers & traders, antiques & primitives, craft booths, and many others.
There will be Civil War enactments and marches through the entire festival with soldiers attired in period costumes of blue and gray and solemnly beating old-fashioned drums and blowing horns (eliciting patriotic goose bumps in visitors).  There will be delightfully-fragranced wood smoke drifting through the tall trees at various concession stands where food of the mid-1800s (in which John Chapman aka Johnny Appleseed – for whom the festival is named – lived) is prepared over wood fire or grilled over an open flame.  So, come hungry for plentiful pioneering dishes such as apple slices with a caramel dip, beef and noodles, hot buttered corn on the cob, pork-chops-on-a-stick, hamburgers, chicken, ham and beans and cornbread, grilled turkey legs and buffalo burgers, duck, caramel corn, apple dumplings, fried apples coated in cinnamon sugar, and apple pie – and so much more.
And before you leave, take a few minutes to walk to the top of the short hill and stand there in a moment of silence as you observe Johnny Appleseed's fenced-in grave.  Had it not been for him, one of Fort Wayne's most popular festivals might never have happened.  Nor might there have ever been our mighty Tin Caps baseball team!
The 39th Johnny Appleseed Festival is Saturday, September 21 from 10-6 to  Sunday, September 22 from 10-5. You can find it in Johnny Appleseed Park at 5800 Harry Baals Drive, Fort Wayne, IN 46805 - right next to the Allen County War Memorial Coliseum. For more information check out Visit Fort Wayne or the Johnny Appleseed Festival website.