Blues fans will welcome the news that celebrated blues-and-rock guitarist Joe Bonamassa will be back in the Summit City on December 2, 2016, as part of his 2016 North American Fall Tour.
One of the greatest guitar players of his generation, Bonamassa is also hugely talented as a singer and songwriter.  His career over the last 25 years has produced ten solo studio albums, seven live albums and seven video albums, and he has 15 #1 Billboard Blues Albums, more than any other artist historically.
Bonamassa has consistently been one of the most sought-after musicians for his live concerts and is acclaimed for mastering several instruments, including the mandolin, Dobro, banjo, and theremin.  Radio host Howard Stern called Bonamassa the "future of blues rock."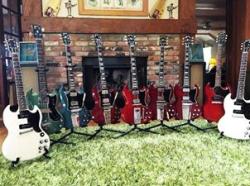 Guitar aficionados will be interested in learning that the Gibson 1960 Les Paul Standard Electric Guitar, is one of Bonamassa's prized guitars and that his model (Serial # 0-0137) shows that it was one of the first batch of this series. He also plays the Gibson ES-335 hollow body, which is absolutely one of the most incredible guitars ever made – I'm speaking from personal experience, as I played one for many decades before selling it. I also sold my longtime Gibson Les Paul ¾ model, so I do tend to favor the Gibson brand.
The tour will highlight his latest studio solo album, Blues of Desperation, released last March and featuring such titles as "This Train," "Blues of Desperation," "How Deep This River Runs," "What I've Known for a Very Long Time," "Drive," and "Mountain Climbing," along with past favorites.
The concert begins at 8 pm at the Embassy Theatre (125 W. Jefferson, Fort Wayne, IN 46802). Tickets are on sale at the Embassy box office (260.424.5665) or through Ticketmaster (Ticketmaster.com). The Embassy is a historic venue, but handicap accessible seats are available on the main floor. All guests, regardless of age, must have a ticket.