Hey, guitar fans – get ready to plagiarize new licks on your axe. Blues-rock artist Joe Bonamassa is coming to the Fort at 8:00 p.m. Monday, November 17, 2014.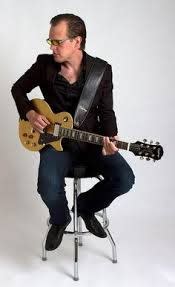 Look to the Embassy Theatre to lay down the red carpet for the superstar who said, "I've really had to push myself to make everything I do better than the last project. I know the fans expect it and I feel like I owe it to the fans to give them an original record after all these years." And his latest gorgeous album, "Different Shades of Blue" is worthy of a fall-on-your-knees drum roll. Released September 23, it is his first solo studio album in two years with all original music. Check out "Never Give All of Your Heart," "Hey Baby (New Rising Sun)," "Trouble Town" and more outstanding songs on the album. This dude has been playing guitar since toddlerhood. His father bought him his first electric guitar when he was 5 years old, and he opened for BB King when he was only 12. That first gig began his outstanding professional career and currently, he has 12 #1 Billboard Blues albums to his name. GRAMMY-nominated Bonamassa, who has recorded a plethora of albums since 2000, plays approximately 125 shows a year, and has a collection of guitars – standing at 175 at the time of this writing. When he went on his first Australian tour, almost 30 of his instruments – both acoustic and electric – traveled with him. One of his collector guitars, his first 1959 Les Paul, has been nicknamed "Magellan" because it, "circumnavigated the globe," said Bonamassa, who has at least 200 amps in his music instrument collection. Come and experience one of the greatest guitarists of today's blues /rock world – this is ear candy at its best! Ticket prices are $99, $89, $79 and $69 and tickets are on sale at the Embassy Theater (124 W. Jefferson Blvd, 46802) box office or call 260-424-5665. Or order from
www.Ticketmaster.com
or call 1-800-745-3000.