Bust out the puffy shirts, folks, because the cat - meowwwwwww! - is out of the bag! Jerry Seinfeld will be performing live at Fort Wayne's Historic Embassy Theatre on Thursday, November 6 at 7 p.m.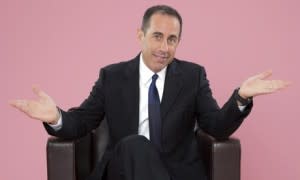 Tickets are on sale NOW, so if you want to see him, you need to act fast! You can get tickets at the Embassy's box office, online via Ticketmaster or by calling 800.745.3000. Ticket prices range from $125 (gold circle) - $81 - $65 - $48. I think most of us were addicts of Seinfeld's hit TV show, either in real-time or syndication. For me, it was real time during college. Nothing  could tear me away from watching him on Thursday nights. Not going out with friends, dates or studying (shh!).  The end of that show was literally the end of an era. My college friends and I still "speak Seinfeld" on a regular basis. Man Hands, the Sidler, the Close-Talker, Festivus, "These pretzels are making me thirsty!" and on and on....let's just say I've been known to break out into the Elaine dance from time to time.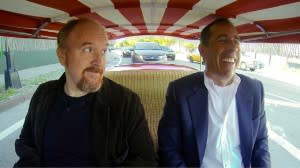 For even more Seinfeld goodness, be sure to check out his current hit web series, "Comedians in Cars Getting Coffee." New episodes are available on Thursdays at 12 p.m., but be sure to watch all of the previous episodes as well! More Info Click here for more upcoming events at The Embassy. The Theatre is located in the heart of downtown Fort Wayne at 125 W. Jefferson Blvd. Insider's Tip: Plan to get to the show early to avoid the 6:45 crowds. Great options for a pre-show early dinner or post-show late one are JK O'Donnell's Irish Ale House, Champion's Restaurant and Sports Bar or The Phoenix.