Fans of the Christian band Jars of Clay will be delighted to know that the popular group is coming to the University of St. Francis April 18, 2012, as part of its national spring tour.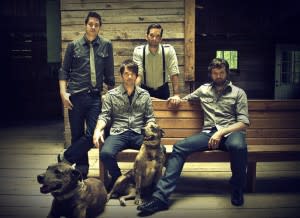 The band members – Matt Odmark, Charlie Lowell, Stephen Mason and Dan Haseltine – all write and record their own music, and are currently creating a brand-new album which will be released in 2013, according to Ted Beidler of Red Light Management in Nashville, TN. The concert will be held at the Performing Arts Center (formerly the Scottish Rite Auditorium, 431 W. Berry Street, Fort Wayne, IN 46802), and will feature singer-songwriter
Matthew Perryman Jones
and
LEAGUES
. Jars of Clay is known for its rock, folk and alternative music and has won acclaim nationally for its unique celebration of Christ through creative melody and harmony. In addition to the above-mentioned groups, two local bands will also be playing – State Line City and The Good Confession – as part of the university's Spring Fling Week, which is sponsored by the school's Campus Ministry. The local bands will open the evening's music at 6 p.m. (doors open at 5:30 p.m.), followed by Leagues, Perryman Jones and finally, Jars of Clay. According to the
USF website
, general admission tickets are $10 through www.itickets.com or $15 at the door. USF faculty, staff and students are admitted free with university ID. For a free download of the Spring Tour songs of all the acts on tour, visit http://noisetrade.com/jarsofclayspringtour2012. More information on the evening's performance can be found at www.jarsofclay.com.