Baby boomers may grow nostalgic remembering the tunes, "A Child In These Hills," "My Opening Farewell," Jamaica Say You Will," and the haunting "Doctor My Eyes," when these songs were created by Jackson Browne for his first album in the 1970s.
[[endteaser]]
Don those suddenly too-small bell-bottoms and campy tie-dyed T-shirts (if you still have them) and settle back to enjoy that music again on November 17, 2015, when Browne swings into the Embassy Theatre (125 W. Jefferson, Fort Wayne, IN) with his guitar and sensitive vocals.
A political protester, environmental activist, and an immensely creative singer / songwriter, Browne began his lengthy career with his first album simply titled Jackson Browne (Saturate Before Using) and soared to his 14th studio album, Standing in the Breach, which hit the charts in 2014.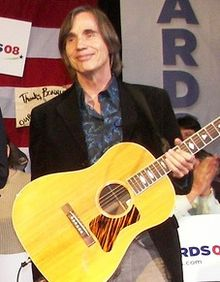 Truly one of the great songwriters and environmentalists, Browne was inducted into the Rock and Roll Hall of Fame, Songwriters Hall of Fame, and received numerous awards and recognition, some of which are included here: "Surf Industry Manufacturers Association's Environmentalist of the Year;" Duke LEAF Award for Lifetime Environmental Achievement in the Fine Arts Award; SOS (Save Our Shores) Ocean Hero Award; Harry Chapin Humanitarian Award (2007); National Association of Recording Merchandisers (NARM) Harry Chapin Humanitarian Award (2008); John Steinbeck Award and many more honors.
The German-borne Brown shared the golden 1960s-1970s with other prolific musicians who had songs to impart to the world, including the Beatles, Peter, Paul & Mary, John Denver, Gordon Lightfoot, Joan Baez, Jim Croce, Don McLean, Simon & Garfunkel and scores more.
In his latest album, Browne sings the poignant "You Know the Night," co-written by Woody Guthrie and Rob Wasserman: "You know the night I met you / My eyes had been looking for you / All over everywhere / Over low roads, down highways and bald deserts . . ."
Come then, to the Embassy, at 7:30 p.m. on November 17 and slip back into the music that once held such vibrancy, empathy and a fervent make-our-planet-better idealism back in your own youthful days, and be inspired all over agin via the poetry of Jackson Browne. Special guests Larry Campbell and Teresa Williams will also be on stage.
Tickets are on sale at the Embassy box office (260.424.5665), through Ticketmaster (ticketmaster.com), or you can call 800.745.3000.