Are you a fan of authentic, wood-fired pizza? If so, odds are you're familiar with 800 Degrees Wood Fired Pizza on Lima Road. But did you know that there is a second location to satisfy your craving for delicious Napolese cuisine? Located at 5212 Illinois Road, 800 Degrees Three Fires has all the charm and authentic food as the original north restaurant, but offers a slightly different menu as well as full sit-down service.

On a recent visit to Three Fires, my husband and two sons and I had a wonderful, memorable meal. As Executive Chef Matt Rogers is a friend of ours, we were able to take a peek into the kitchen and see the famous wood fired ovens--the boys really enjoyed that. Once we were seated, the boys had Bambino Cheese Pizzas (perfect portions for both nine-year old and toddler-sized appetites), while my husband had his favorite artisan pizza, the Salsiccia with extra sauce. It's a spicy, flavorful meat-topped pizza--and Kevin swears by requesting more of the tangy, homemade sauce to make it even more spectacular.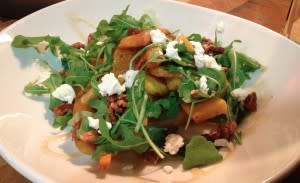 I decided on my usual, the Mista Salad, which is a mix of fresh greens, pine nuts, Parmesan, julienne carrots and fennel, plus a handmade dressing that is out of this world. At the north location, I always have the pasta with pesto, but since it wasn't on the regular menu at Three Fires I was treated to a chef's specialty salad of roasted squash, goat cheese and walnuts. Topped with a sweet-yet-savory dressing, I couldn't get enough. I paired my meal with a nice Carmenere (a rich red wine), while my husband selected one of the countless IPA's on the menu. When dinner was over, my older son convinced us to get dessert. He selected the chocolate gelato, which he says is some of the best ice cream he's ever had. A sweet, decadent finish to a terrific dining experience.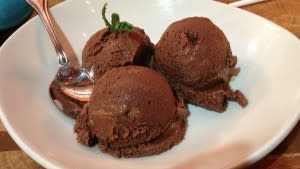 Whether you're looking for a new date night option or a family-friendly place to take the kids, 800 Degrees Three Fires is a perfect choice. Though the artisan wood fired pizzas are the specialty, you can't go wrong with a gourmet salad, vegetable dish or tasty pasta. And don't forget to save room for dessert.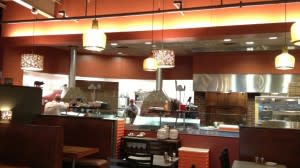 800 Degrees Three Fires 5212 Illinois Road 800degrees