The Festival of Gingerbread, the annual fundraiser to benefit
The History Center
, has a special treat for visitors this holiday season. The museum kicks off its "special events" on November 21, as part of the Downtown Night of Lights. This is a time for visitors to get a sneak peek at the handiwork of creators from 5 to 9 p.m. Admission is $2 a person at the door for Lighting Night. At 6 p.m. the History Center's turret will be lit with special holiday colors of red and green. Kids will love that Santa will make an appearance.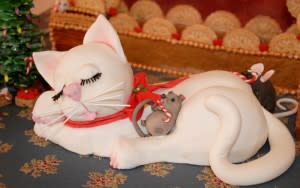 But that's not all! A variety of special events will occur during the Festival of Gingerbread. Throughout the season, admission is $5 adults ages 19-58, $3 for seniors ages 59+ and students ages 3-18, and free to children age 2 and under. There is no extra charge for special activities or events unless indicated. Below is a schedule:
Saturday, November 24, 1-3 pm, Create Your Own Ornament, $1 plus regular museum admission
Sunday, November 25, 1-3 pm, Make a Holiday Greeting Card, $1 plus regular museum admission
Tuesday, November 27, 5-9 pm, Free Night sponsored by AEP Indiana-Michigan Power
Saturday, December 1, 1-3 pm, Visit with Santa Claus
Sunday, December 2, 1-3 pm, Holiday Story Telling
Saturday, December 8, 1-4 pm, Science of Sugary Structures sponsored by PNC Bank and Science Central, $3 plus regular museum admission
Sunday, December 9, 1-4 pm, Cookie Decorating Party, $1 plus regular museum admission
Special holiday exhibits during the Festival include a Wolf and Dessauer display of animatronic characters, an exhibit of "A Christmas Carol" watercolors that once adorned the Patterson Fletcher Department Store, and a display of holiday photos from years past. A visit to the museum is also another opportunity to view the new exhibition gallery,
"Allen County Innovation."
The Festival of Gingerbread will run November 22 through December 9th. Hours are Monday through Thursday 9 am to 5 pm; Friday 9 am to 8 pm; Saturday 9 am to 5 pm; and Sunday Noon to 5 pm. The History Center will be closed Thanksgiving Day. The History Center is located at 302 East Berry Street, Fort Wayne, in downtown Fort Wayne. For more information, visit
www.fwhistorycenter.com
, or call (260) 426-2882.