"Every time a bell rings, an angel gets his wings!" This magical phrase, uttered by one of the sweetest and most recognizable voices in American cinema, holds a special place in the hearts of many. From the 1946 film by Frank Capra, First Presbyterian Theater presents It's a Wonderful Life, directed by Thom Hofrichter.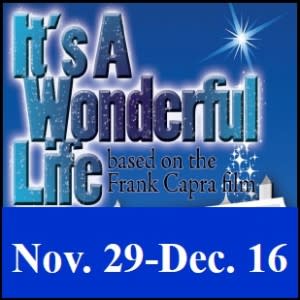 The stage performance of this holiday classic film tells the touching story of George Bailey, whose troubles have led up to his imminent suicide at Christmas. When the angels in Heaven hear the prayers from his loved ones, one angel in particular is assigned to help George. Guardian angel Clarence shows how many lives have been affected by George and how different they would be without his sacrifices. It is when Clarence earns his wings (and when little Zuzu delivers her famous line) that George truly understands how blessed he is and what a wonderful life it is. It just wouldn't be the holiday season without It's a Wonderful Life. First Presbyterian Theater is running the show for the following dates: November 29 and 30 December 1, 2, 7, 8, 9, 14, 15, 16 Ticket prices are as follows:
General      Admission: $20 pre-sale ($24 at the door)
Patrons      65 and older: $18 pre-sale ($22 at the door)
Full-time students (any age): Free with reservation to most shows (30 tickets each performance—please call or email the Box Office.) $10 at the door.
Thursday night preview performances are $10.
$15 tickets are available for groups of 20 or more. Please contact the Box Office at 260-422-6329 for further details or learn more online.