Once you've experienced The Auburn Cord Duesenberg Festival, you will surely come to know why Auburn, Indiana is famous for its automobile heritage. This is truly a celebratory time to visit DeKalb County, located just a few miles north of Fort Wayne. You can feel the excitement in the air as people from around the country gather in this picturesque American city to celebrate "The World's Greatest Classic Car Show & Festival." You don't even have to know how to change a tire to appreciate all the fun that this festival has to offer. Check out the
festival website
for a detailed schedule of events. After scoping it out myself, here are a few things I'm looking forward to at the "ACD Fest," as the locals say.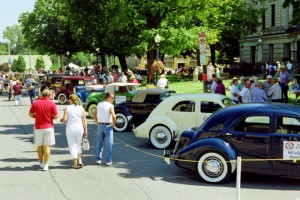 Downtown Cruise-In
(Friday, 9/2 at 5:00 p.m.) This is a NEW event and it's also FREE!
Parade of Classics
Saturday, 9/3 at 1:00 p.m.) FREE admission!
Auburn Art Fair & Music Festival
(Saturday 9/3 10:00 a.m. – 4:00 p.m. at the DeKalb Outdoor Theater) Also FREE admission!
Kids Art Tent
(Saturday 9/3 from 11:00 a.m. – 3:00 p.m. at 8
th
Street near Main Street) FREE!
Gala Ball
at the ACD Automobile Museum (Saturday 9/3 from 7:00 – 11:00 p.m.) Semi-formal event for museum members. Memberships will be sold at the door. What a fun reason to get gussied up!
Auburn Historic Tours
(Sunday 9/4 from 9:00 a.m. – 4:00 p.m. Tours depart from DeKalb County Fairgrounds and last approximately 45 minutes.) Admission is $5 per person In addition to traditional festival activities, car auctions galore will be taking place simultaneously here in DeKalb County. These vintage cars are truly works of art! And keep a sharp eye, because it's quite likely that you'll see a celebrity (or two, or three) wandering around during these events. The Auburn Cord Duesenberg Festival September 1-5, 2011
www.acdfestival.org