During your next visit to Fort Wayne, Indiana, be sure to take a trip to the city's own Freimann Square, located downtown. There, at the corner of Main and Barr, you will find the first Indiana University–Purdue University Fort Wayne (IPFW) statue for the university's flagship 50th anniversary project — Sculpture with Purpose™. The recent unveiling of the statue called "Confluence," is the first sculpture in this public art project that launched this September.

The sculpture (and the 50 that will follow) doubles as a bike rack. As part of the initiative, IPFW is working to secure 50 sponsors for each of 50 sculptures that will be spread across the city. Also as part of the unveiling of "Confluence," university and Fort Wayne city officials issued what they are calling the Artist Call for Proposal — asking local artists to submit their ideas for future statues which will also double as bike racks to help promote a bike friendly city.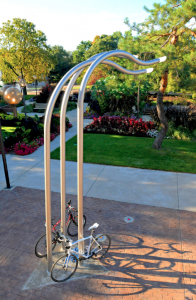 The project consists of three sculpture sizes: Decade, Celebration and Commemorative, and include artist stipends ranging from $5,000 to $1,000 per work. An information session for artists will be Saturday, October 27 at Arts United with a deadline for future proposals set for December 3. All 50 sculptures are set to be unveiled on city streets by May 2014. In the meantime visitors are invited to view "Confluence" which was designed and sponsored by the Design Collaborative. Visit "Confluence" at Freimann Square, a public park with a water fountain, located downtown at 200 E. Main St.