Indiana University. Purdue. Butler. Notre Dame. On any given year, the NCAA Division I Men's Basketball Tournament is typically filled with at least a few Indiana teams.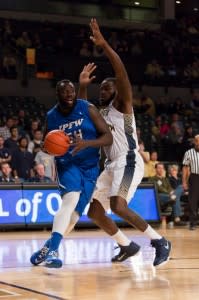 But 2014 was different. None of the usual teams made the tournament. The only team left with a shot was the IPFW (Indiana University- Purdue University Fort Wayne) Mastodons. While their dreams of playing in the NCAA tournament in 2014 didn't come true after a 106-95 loss to VMI, they came closer than any other Indiana team. That's some great motivation as they begin the 2014-2015 season. Coming off a 25-11 season, the Mastodons have three returning starters. Their season is already in full swing, with some big victories over teams like Miami (Ohio) and Jacksonville, and some tough loses to teams like Purdue and Georgia Tech. The Mastodons compete in NCAA Division I, The Summit League, and they will play conference teams like Denver, South Dakota, Oral Roberts, Western Illinois, Omaha and more, with their final regular-season game against Western Illinois on February 28. IPFW will play eight of their conference games at home at the Gates Sports Center in Fort Wayne. For forty years IPFW has taken to the basketball court, but this is Head Coach Jon Coffman's first year leading the Mastodons. Coffman served as an assistant coach for three seasons. IPFW's three returning starters are Steve Forbes, Joe Edwards and Isaiah McCray, all of which are seniors. Forbes leads the team in points per game with an average of 12.1. The Mastodons are hosting a few promotional nights this season, including the "Bring your 'A' Game" nights where students from grades K-5 can bring their report card to the Gates Athletic Center ticket window for a complementary game ticket. The offer is valid for all games between December 20, 2014 and January 9, 2015. Purchase of an adult ticket is required.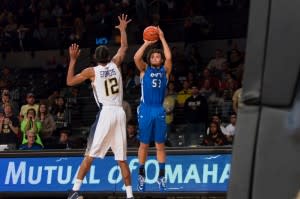 IPFW is also honoring those who have served in the United States military with Wounded Warrior Project Night on December 28. Ten Wounded Warrior Alumni will be recognized during halftime, and game attendees who show a military ID will receive a free ticket to the game, as well as discounted tickets for those accompanying them to the game. But the sea of royal blue and white at a Mastodons game is reason enough to check out an IPFW game. Whether the fans are students or locals checking out the team, there are always lots of people cheering on the Mastodons. It's the perfect opportunity to check out a Division I team. For more information, visit here.