I first heard about the Vera Bradley Annual Outlet Sale in 2016. I had been in Fort Wayne for less than a year, and it just so happened that friends were visiting from out of town the weekend of the sale. I also had a performance with Heartland Sings scheduled for that Sunday (I'm a full-time vocal artist with the company)
Naive as I was, I figured my boyfriend and I could take our friends out to brunch, and stop by the outlet sale before I had to show up for soundcheck. BIG mistake!
I had no idea how gargantuan the Vera Bradley Annual Outlet Sale really was. It takes place at the Memorial Coliseum, the biggest venue in Fort Wayne, and the parking lot was packed.
Even though I thought we had plenty of time, by the time we had parked, weaved our way through the bounty of products, and waited in the winding checkout line, I was running very, very behind.
The performers had been called two hours before the show for soundcheck, and I got there an hour late! It was mortifying. At least I found some cool stuff.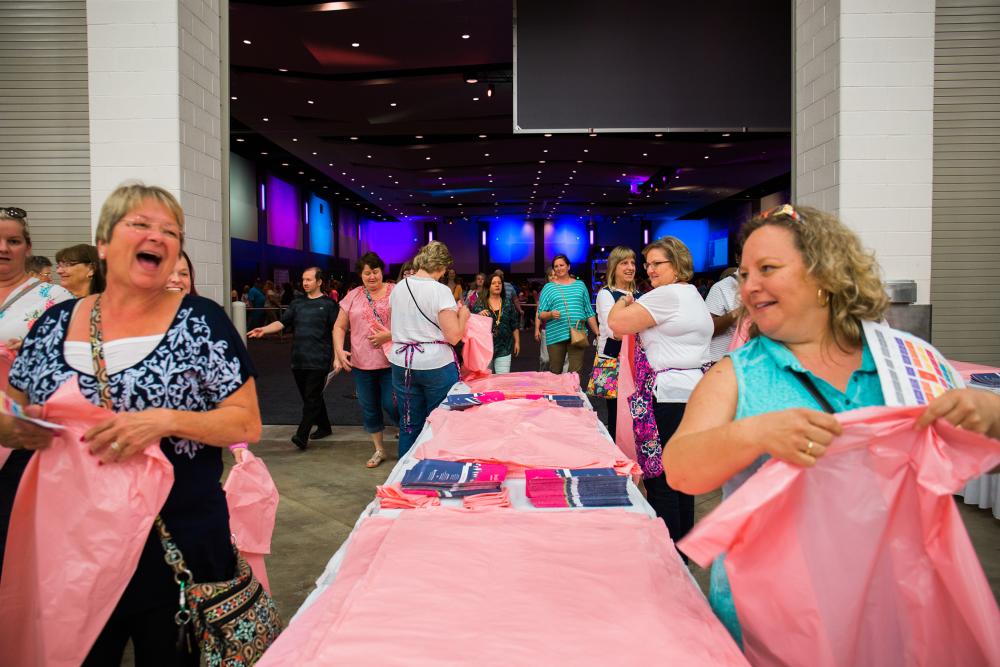 How to Enjoy the Vera Bradley Annual Outlet Sale
As you can probably tell from my story, planning is crucial when going to the Vera Bradley Annual Outlet Sale.
For Vera Bradley fans, the Outlet Sale is the ultimate shopping experience! There are mountains of merchandise for crazy low prices (up to 70% off), from keychains and phone cases to clothing and, of course, Vera Bradley's famous bags. 
Here are my tips for getting the most out of the 2023 Vera Bradley Annual Outlet Sale — June 14-18, 2023. And be sure to check out these special deals around Fort Wayne just for Vera Bradley Sale attendees!
1. Book Your Hotel
This is an extremely popular sale, and area hotels fill up quickly. So book your hotel early.
I recommend staying in the Coliseum Boulevard area to be as close as possible to the sale! There are some great restaurants and shopping available in the area, perfect for a shopping getaway! Or, stay at any of the four downtown Fort Wayne hotels, less than 10 minutes from the Memorial Coliseum and the sale.
Plus, be sure to check out the hotel packages and SAVE even more on your stay.

2. Get Tickets
If you'd like to attend during the first three days of the event (Wednesday, Thursday, and Friday), you'll also need to buy a ticket for a 2.5-hour session. Tickets go on sale March 28. You can purchase your tickets online OR in person at the Memorial Coliseum Ticket Office.
If you're worried about lines, try to attend one of the ticketed sessions on Wednesday, Thursday, or Friday! There are 4 ticketed sessions available daily from Wednesday to Friday. Each session is 2.5 hours and has a limited number of tickets available!
Whether you are going during a ticketed session or during the free days on Saturday and Sunday, just remember to bring a valid ID or driver's license for registration if you plan to make a purchase.
3. Get Ready for the Long Haul
As I learned the hard way, the Vera Bradley Annual Outlet Sale is not an event you can just pop in and out of.
A few ways to come prepared:
Eat a meal beforehand,
Wear comfortable clothes and footwear,
Give yourself more than enough time to make the most of the sale!
If you're looking for a place to eat near Coliseum Boulevard, treat yourself to a great meal at Cork N' Cleaver, Casa Ristorante Italiano, or BakerStreet Steakhouse. Or, opt for something quicker with Penn Station, Chipotle, or Panera Bread right by the Memorial Coliseum.
Fort Wayne also has some amazing brunch options and a wide range of delicious dining options throughout the city!
4. Know the Details
For an event like this, doing your homework can help you navigate the sale with ease.
Here are a few pertinent details:
Parking at the Memorial Coliseum is $8, with a "preferred" lot available for $12.
The actual sale is laid out in a large showroom, with new merchandise arriving on the floor all the time. This room can get pretty crazy during the initial rush of excitement, so come ready to be patient with your fellow shoppers should they accidentally jostle you!
Once you've chosen your items, you'll head to a different room with organized checkout lines. Leave plenty of time for this step!
With proper planning—whether that means booking a hotel room or not attempting to casually shop the sale before a performance—you're sure to have a great time at this year's Vera Bradley Annual Outlet Sale.
Plus, don't forget about making the most of your time in Fort Wayne! There are plenty of other activities for your girlfriends or family to enjoy.
So make your arrangements now, and prepare for an unforgettable shopping experience.
This blog was originally published in 2017 and has been updated. Last Update: March 2023