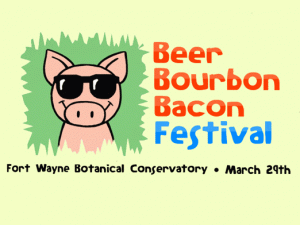 Life is about appreciating an indulgence from time to time. After all, you gotta live once and while!  If you like beer, bourbon, and bacon, you're in luck! The Foellinger-Freimann Botanical Conservatory is hosting a festival celebrating these three Bs. Join other food and drink aficionados March 29th at the Conservatory in downtown Ft. Wayne, from 5pm to 8pm.
A $35 tickets gets you an unlimited sampling of 60+ beers from local, regional and national breweries including Mad Anthony, Summit City Brewerks, Lexington Brewing Co, Bell's, Flat 12, Three Floyds, Dogfish Head, Goose Island and many, many more. Those fond of the Kentucky whiskey can sample varieties from Indiana and Kentucky. And need I mention the bacon!?  
Eddie Merlot's, Main St. Bistro and Martini Lounge, Chop's, Shigs in Pit and the Trolley Bar will all be serving up Ossian-brand bacon-themed snacks available at a very modest price. The exact dishes haven't been announced, so it will be a pleasant surprise to see what they serve up. But I can tell you these restaurants are among the most popular in Fort Wayne, so you're in for a treat. This is the first time for this event, and organizers are optimistic about the response.  The inspiration was to find something unique in terms of beer festivals. Beer fests are common. Bacon fests are in other markets. But adding bourbon to the mix just seemed like a tasty idea. (We'd have to agree!) The venue is sure to please as well.
You can't go wrong with flowers, lots of places to wander and plenty of room for sampling stations. Rain or shine, you'll have a great time enjoying the beauty of nature, and course other sensory delights. Drinking not your thing? Designated driver tickets are also available and will include a sandwich and soda /water. Tickets are available for purchase online and you can find them here.