The Three Rivers Festival has come and gone. For those of you who read my earlier Three Rivers Festival posts: no, I didn't buy any new art at Art in The Park this year, and yes, I quite enjoyed my fried cheese and elephant ear, thank you very much.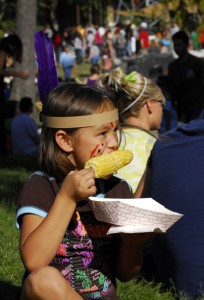 But now it's time to look forward to what is actually my favorite of Fort Wayne's two biggest festivals: the Johnny Appleseed Festival. For those of you who don't know, Johnny Appleseed (aka John Chapman) was an American frontiersman who, in the mid-nineteenth century, wandered the Midwest planting apple trees. What's our connection to the life and legacy of this American folk hero? He's actually buried here in a park now named for him, located next to the Allen County War Memorial Coliseum, where the festival is held every year. The Johnny Appleseed Festival always runs over the third weekend of September, which is an interesting time here in Indiana. By all accounts, this is a fall festival, but according to the calendar, it's still technically summer. That means you can only guess what the weather's going to be like, which frames the festival in one of two ways: it's either one last celebration of summer, with sunny skies and warm temperatures, or it's a prelude to the cooler days of autumn, where jackets and long pants are the required wardrobe. I prefer the latter because, well, hot apple cider just tastes better with a chill in the air. While the festival has so much to offer – historical reenactments, antiques, arts and crafts – it's the food that draws me back year after year. Here are my top three Johnny Appleseed Festival treats (required eating, if you will): the caramel apples, the funnel cake, and the fried apple slices. I just discovered that last one a couple years ago, but if apple slices deep-fried, rolled in cinnamon-sugar, and then drizzled with caramel sounds like something you'd enjoy, I think we could be friends. If not, I suspect you may not be human… (The funny thing about all the eating I'll be doing is that the following weekend I'll be participating in my first Fort4Fitness. But I'll save that for a future post.) The
Johnny Appleseed Festival
is genuine fun for all ages, and it's one of Fort Wayne, Indiana's proudest traditions. The festival will be held at Johnny Appleseed Park, 5800 Harry Baals Drive (off East Coliseum Boulevard), on September 17 from 10:00 a.m. – 6:00 p.m. and September 18 from 10:00 a.m. – 5:00 p.m.