If you're in downtown Fort Wayne with friends or family and need some physical activity, head on over to Headwaters Park for some ice skating fun!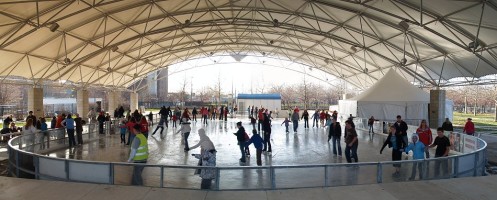 To be honest, I was a bit skeptical that I would enjoy this, because I'm not an expert skater, by any means, and also because there aren't any hand rails around the perimeter of the rink.  However, I truly did have a fun time hanging onto my friends for dear life as we skated somewhat and fell often.
Another advantage of this experience, was the convenience of the rink to other places I had on my agenda for the day. Because Headwaters Park is downtown and within walking distance to many things, I didn't have to return to my car, drive to a café somewhere else downtown, and then find another parking space; my friends and I simply walked a few short blocks to our destination. (We took advantage of the free street parking after 5:00 p.m. on weeknights.  There's free street parking on weekends, too!  Click here to view a map of downtown public parking areas.)
This is a fun idea for a date night or for hanging out with friends. Parents might also think ice skating is a great idea to keep their kids active this winter, providing the weather is comfortable enough this winter.
Admission:  Age 13 and under $3. Age 14 and over $5. Skate Rental $2.
Spectators & Parking FREE
Regular Hours: Monday-Thursday 1-8 pm, Friday 12-10 pm, Saturday 11 am-10 pm, Sunday 12-8 pm