Do you love Fort Wayne as much as I do? If so, listen up! I enjoy buying my out-of-town family and friends gifts unique to Fort Wayne. Our city is blessed with a plethora of creative entrepreneurs, so it's not hard to find these gifts, but it is hard to choose just a few. I want to buy them all! I did manage to put together a short list of my favorites and reached out to my friends to find out what their favorites are too. Here's what we came up with.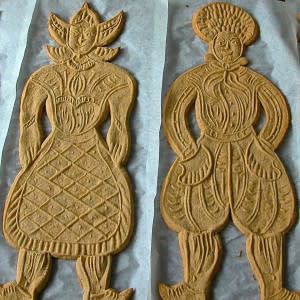 1-    Dos Homos Brand's Gingerbread People Each year for the holidays, the gents at Dos Homos make 18-inch Gingerbread People. These make great host/hostess gifts… and trust me, they taste even better than they look. You can find them at Fort Wayne's Farmers Market the 1st and 3rd Saturday of each month at Parkview Field. They also offer amazing jams, jellies and other canned yummies. I highly recommend trying ginger cherry sauerkraut.
2-    Old Fort Soap Company's handcrafted natural soaps I was just recently introduced to these products and fell in love. They are free of artificial chemicals and great for the skin. And of course, they smell amazing. You can order online at www.oldfortsoap.com or find them at Fort Wayne's Farmers Market the 1st and 3rd Saturdays of the month at Parkview Field.
3-    Sharp Dressed Van reclaimed jewelry I discovered this company at last year's Holly Pop event in Downtown Fort Wayne and I've been in love ever since. The husband and wife team transforms parts from old vehicles into very trendy pieces of jewelry. Each piece comes with a photo of the vehicle from which it came. You can check them out on Facebook or online at http://sharpdressedvan.com/.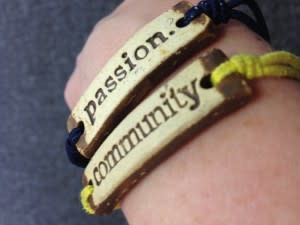 4-    Mudlove bands  Based in Winona Lake, this company produces bands, necklaces, ornaments and magnets out of fired clay. I especially love the bands and wear two myself: community and passion. What makes this company so unique is it donates 20 percent of all sales to clean water projects in Africa through Water for Good. Check them out online at www.mudlove.com. They even offer personalization and fundraising opportunities.
5-    K1nd upcycled and hand-knit cashmere and woolen mittens I purchased a pair of fingerless mittens from K1nd at the Fort Wayne's Farmers Market and would wear them in my sleep if that weren't weird. I love them. The pair I chose are made from upcycled wool from a blue cable sweater. She also makes scarves, hats and bags, all from upcycled materials. Find her at the market or on Etsy, http://www.etsy.com/shop/k1ndnaturalgoods.
Recommendations from friends: Mad Anthony Brewing Company- 6 pack Old Crown Coffee Roaters- fresh coffee beans DeBrand Fine Chocolates- Connoisseur Collection M & C Miller Honey- creamed honey Hedgehog Press- hand printed Fort Wayne skyline postcards Ofabz Swimwear- gift certificate Belyst- gift certificate The Good Ones- gift certificate River City Candle Company- Southern Hospitality scented candle The Olive Twist- specialty olive oils and balsamic vinegars Kernel Coladas- holiday popcorn assortment Kristy Jo Beber Stoneware Pottery Stonewares by Laura Polly Esther Threads- homemade crayons Natril Gear- Lugger Best Boy- dessert sauces Cinda B- handbags and totes The Ginger Kitchen- gourmet ice cream