Spring Break 2013 for Fort Wayne area schools begins Good Friday, March 29 with students returning to school on Monday April 8.  If you're one of the many families choosing a staycation this year, we have some great ideas to keep you and the family entertained all week.
Kick off the week with the Mad Ants, the Komets, and the Derby Girls The Mad Ants will play at home Friday the 29th and Saturday the 30th.  With tickets starting at just $5, this is an affordable and fun family activity. The Komets will play their final regular season game at home on Saturday March 30th. Tickets start at $7 for children and $12 for adults. Check out the Derby Girls bout on March 30 at home with tickets starting at $7 for children, military, and seniors with adult tickets priced at $13.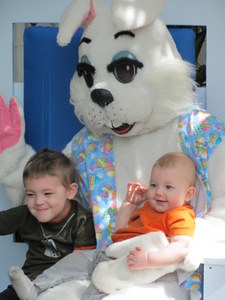 Meet the Easter Bunny The Botanical Conservatory will host Easter in the Garden from 10 a.m.- 3 p.m. on Friday March 29. This event is for toddlers to elementary age children. Be sure to bring your camera and stop by the Jungle Adventure while you're there to let the kids explore the jungle tree house and playground structure.
Become a Scientist Science Central will offer Spring Camp 2013 from April 1-April 5 with programs for children between the ages of 3-13.  Times, prices, and topics vary by age group, so be sure to check their website www.sciencecentral.org for more info.  Don't want to go for the entire week? Go for the day and check out cool exhibits such as the Genomics eXplorer that examines plants and investigates important contributions researchers are making to agriculture, human health, and the environment.
Experience the Arts Fort Wayne's Arts community will be quite active during Spring Break.  Take in a lecture on one of Northeast Indiana's successful makers of premiere Arts and Crafts furniture maker, W.B. Brown (known locally as the "Chandelier Factory") on the 30th at the Auer Center. The Orchard Gallery will wrap up its display "Art Becomes Her" on March 30th.  Don't miss this art inspired by women.  Starting April 2 Orchard Gallery will display works from Becky Jordan and Rhonda Cearlock. The History Center will host John Stafford who will lecture on Urban Renewal to Urban Revitalization.  This event is free to attend. Celtic Woman will perform at the Embassy Theatre Sunday April 7.  Tickets start at $42 and are on sale now. Enjoy the family focused Philharmonic concert, Witches, Wizards, and Fairytales on April 7.  The PHIL will perform with the Fort Wayne Youtheatre bringing your favorite fairytales to life. Tickets are on sale now and begin at $7 for children and $13 for adults
A little bit of Disney in the Fort Disney on Ice will perform at the Allen County War Memorial Coliseum bringing your favorite Disney characters to life on the ice.  Performances take place April 4-April 7 with tickets start at $14 and are on sale now.
Explore the Farmer Market The Fort Wayne Farmers Market takes place the first Saturday of every month at Parkview Field.  On Saturday April 6, enjoy good from area vendors and local market enthusiasts. These are just a few of my picks for a great week. For more ideas, check out Visit Fort Wayne's Spring Break page!