We're inching closer and closer to one of Fort Wayne's most exciting sporting events this summer. We're talking about the 2013 Hotel Fitness Championship, of course. As Indiana's biggest and best golf tournament this year, the Hotel Fitness Championship is expecting to draw fans from across the Hoosier state and many from across state lines. If you haven't purchased a ticket yet, you can buy them
here.
Visit Fort Wayne
had the opportunity to speak with someone very familiar with professional golf and the state of Indiana - Hoosier native and VP of Business Affairs for the PGA TOUR Tim Benton. Benton, a native of Richmond, Indiana,  spoke to Visit Fort Wayne about several interesting facets of the Hotel Fitness Championship, Sycamore Hills, Fort Wayne and why the PGA TOUR chose Fort Wayne to host professional event over several hundreds of cities and golf courses.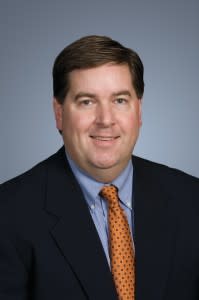 There are hundreds of golf courses in America. Why did the PGA TOUR select Sycamore Hills as one of the four Web.com Tour Finals sites?
Benton:
Sycamore Hills is an outstanding, highly competitive golf course and will look superb as we televise the Hotel Fitness Championship around the world. We're thrilled the ownership and membership is hosting this event, and we're excited to showcase such a great course to a worldwide TV audience. We think the TOUR players will thoroughly enjoy the course, and the fans will get a great opportunity to see TOUR players up close and personal.
Explain the Web.com Tour, its history and close ties to the PGA TOUR.
B
: The Web.com Tour is owned and operated by the PGA TOUR and is a key part of our organization. It was the vision of former PGA TOUR Commissioner Deane Beman who brought the concept to life when the first event was played in 1990. Since then, we've grown into one of the best Tours in the world with 3 out of 4 players on the PGA TOUR today having come through the Web.com Tour.
For golf fans and non-golf fans, why should someone attend the Hotel Fitness Championship? What will they expect?
B
: First, this is one of two official events of the PGA TOUR in Indiana (the other is in Evansville), so this is a chance to see and experience PGA TOUR level golf. This event will attract PGA TOUR players ranking No. 126-200 on the money list playing alongside players No. 1-75 from the Web.com Tour. Fans will see world class golf and support an event that provides net proceeds to a variety of charities.
The Hotel Fitness Championship is offering individuals a chance to volunteer during the tournament. What are the benefits of working a golf event?
B
: A volunteer gets an "insider" view of the golf tournament, working with the Tour team and helping in a variety of ways from scoring, to marshaling and helping players as they come to Fort Wayne for the first time.
Who are some of the famous Web.com Tour alumni?  
B
: Considering that 3 out of every 4 PGA TOUR players are alums, there a lot to choose from, but Webb Simpson,  Zach Johnson, Jim Furyk, Keegan Bradley, Jason Dufner and Richmond, Ind. alum Bo Van Pelt come to mind. Ernie Els, John Daly and many others have all played this Tour over the years, as it has a special place in the career path of many players.
Talk about Fort Wayne as a community. What do you enjoy about the city?
B
: So far, I've been pretty focused on the business of the event,  but have found time to visit Chop's restaurant a few times. What stands out, though, is the good old fashioned Hoosier hospitality and the great people that make Fort Wayne such a warm and enjoyable place.
You're an Indiana native. What makes golf special in this state?
B
: Yes, I grew up in Richmond and graduated from DePauw, so I've seen a lot of this state over the years. There are so many great courses in Indiana, and we're glad to have played some of the very, very best with TOUR events in Evansville at Victoria National; Indianapolis at Crooked Stick; and now in Fort Wayne with the Hotel Fitness Championship. I have to say, though, that the course in Richmond, Forest Hills CC, is a lot of fun to play and our kids have loved playing there when we visit family.
Anything else you'd like to add?
B
: The PGA TOUR is very appreciative of this event coming together. In particular, we'd like to thank Bruce Dye for his commitment to making this event so strong, the Western Golf Association for working closely with us on all aspects and Sycamore Hills for all they are doing to prepare for this event. It is a team effort and we're glad to be part of such a great team in Fort Wayne. We're hoping the fans will enjoy the show!
2013 Hotel Fitness Championship Website
Buy Tickets
Volunteer Registration
Sycamore Hills Website