Nostalgia meets romance with a horse-and-carriage ride. Winter is a great time for a horse-and-carriage ride with that special someone.  Luckily for visitors, there are several options to see the city and create a memory to last a lifetime (or at least thru the winter):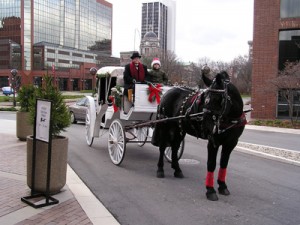 Rosewood Carriage Rides:  Since 2003, Rosewood Carriage Rides has provided horse-drawn carriages year round for weddings, proms, holidays, special events, and nightly tours in downtown Fort Wayne. Gift Certificates are available. MasterCard, Visa and Debit cards are accepted without additional charges. Call (260) 637-5261 for pricing and to arrange for a ride.
Camelot Carriage Rides: Family-owned and operated, Camelot Carriage Rides has been in business since 1997. Their horses are beautiful Majestic White Draft horses. They offer downtown tours, as well as weddings and special events. Gift certificates are available Cash, Check and Credit cards for payment (credit cards must be pre-paid). Reservations are recommended. For more information and to secure a reservation, contact DeeAnn at (260) 223-2417.
Sentimental Journey:  The folks at Sentimental Journey will see that your night is special: Pricing is $35 per tour (1/2 hour) and $70 per Tour (1 hour). Rides begin and end at Don Hall's Gas House & Takaoka restaurant. Special locations and pricing can be arranged. Reservations are available most evenings with 24-hour notice. Call (260) 341-1133  for special days and arrangements.
Don't forget to bundle up! And following the ride, don't forget to stop by the
Dash-In
for a cup of hot chocolate!