I am constantly in search of new and interesting food experiences. Fort Wayne is full of great food. It is awesome to be in a place where there are so many new and old options. One of the newest spots in town is Honey on the Table. I had lunch at Honey on the Table and I am looking forward to going back. It is in a very small storefront in a small strip mall on Hobson Road at State Street. The decor is fun and complementary to the space (which is light and happy, maximizing the small seating area).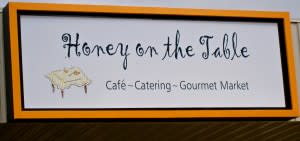 The food was great. I had the HOTT House Salad - spinach, goat cheese, toasted walnuts, raisin bread croutons, and a chestnut-honey vinaigrette. Of course dirt would taste good if you put goat cheese on it, so needless to say the salad was tasty. It was properly dressed and there was enough for a meal with the bread on the side. I spied on my neighbor's lunches and noticed that the sandwiches looked fantastic - the half-sandwiches are not halves at all, they are from smaller loaves of bread. Cute!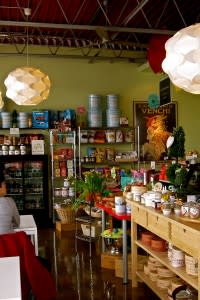 Honey on the Table bakes their own bread and it is interesting, made in-house, fabulous, and served with everything. You can buy fresh bread by the loaf as well. Available for snacks and dessert are house-made pastries, cookies, or cupcakes. Honey on the Table also has a selection healthy snacks, pasta, and various food accoutrements that you can tote home with you. In addition to the good food the service is also great. What is better than good food and nice folks? I arrived just before noon. Luckily. By the time I left at 12:30-ish it was packed. Be advised. Also, do not plan on being pretentious here - the plates are paper and the utensils are plastic. Why waste cash on those things when the food is so good? No need. The seating is tight but fun and the folks are friendly. Honey on the Table is a great neighborhood spot. I will go back and recommend that you go too.