Love shopping? Love downtown? Love shopping local? I can answer yes to all three questions, so if you are like me, plan to check out Holley Trolley Shopping Downtown on November 24.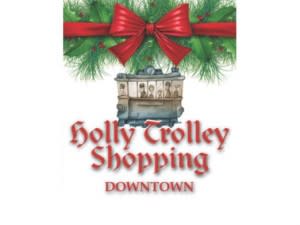 Part of HolidayFest, which includes downtown's annual lighting ceremony, ice skating at Headwater's Park, photos with Santa at the Botanical Conservatory, the Annual Gingerbread Festival, the Embassy's Festival of Trees, and more, Holley Trolley Shopping is a day to explore downtown retailers. The best part is you can park at one place and take the trolley to others from 10am to 5pm. More than 20 shops are participating, offering special deals on local merchandise and community memorabilia. In addition to existing retailers, several vacant spaces will host "pop up" retail galleries, featuring work from local artists. Want to know the best part? Riding the trolley is free! So head downtown with the family to enjoy the sights and sounds of the holidays and get a little of your shopping done too! For more information about HolidayFest and the Holley Trolley Shopping Downtown, visit
HolidayFest's website
.