Most people would agree that Christmas couldn't exist without music. Traditional carols and jingle bells make it an excellent time to relax and feel great joy, much hope, and good wishes for family and friends. As part of Fort Wayne's love for the holiday, the Philharmonic orchestra will team up with the Fort Wayne Philharmonic Chorus under the direction of conductor Bradley Thachuk, to present five special performances of a beloved classic "The Philharmonic Holiday Pops!" The Pops are performed at the Embassy Theatre on Friday, December 9, 8pm; Saturday, December 10, 8pm; Friday, December 16, 8pm; Saturday, December 17, 2pm; Saturday, December 17, 8pm.
And you can

win tickets

!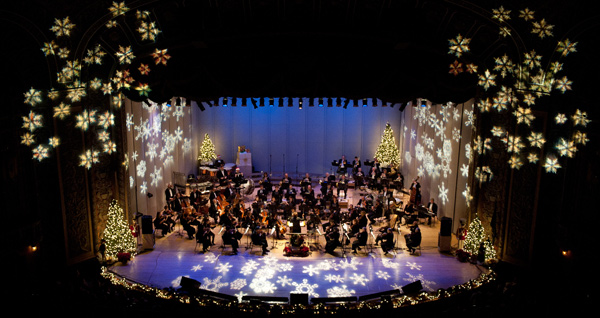 At each performance Maestro Thachuk will lead the mighty forces of the Philharmonic chorus and orchestra with something for everyone, including traditional favorites, new arrangements and a myriad of surprises. Guest artists include Stephanie Park, soprano; Kelly O'Neill, alto; Christopher Blem, tenor; Blaine Krauss, bass; Mike Conley, guitar and vocals. The Fort Wayne Children's Chorus will also participate in the shows. Tickets are available at the Philharmonic Box Office, located at 4901 Fuller Dr. in Fort Wayne. Call 260.481.0777 or toll-free 888.402.2224 or go online at
http://www.fwphil.org/
for more information. Tickets start at $25.00 Box office hours: Monday – Thursday 9am – 6pm Friday 9am  – 5pm Saturdays 12 pm – 4 pm (concert days only) Christmas is the most exciting celebration of the year. It is so intimate, so magical, so magnificent…  Something deep in our nature makes this event important. Gather up the whole family and make this year's Holiday Pops concert a highlight of your holiday season.