(Fort Wayne, Indiana is home to a number of holiday festival events. This is part one of a three-part series to showcase some of the most loved festivals.)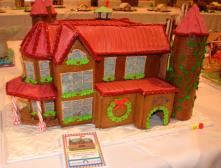 This 28th annual Festival of Gingerbread opens to the public on November 29, downtown at The History Center. Visitors to The History Center will see a lovely display of locally made gingerbread houses. But these aren't the ones you remember as a kid. These are truly works of art, carefully thought out and planned, and put together over the course of days or weeks.
Details on special events during the show are below. If you are visiting on December 3, please note admittance to the Festival of Gingerbread is free from 5-9 that day courtesy of AEP-Indiana Michigan Power. The Festival of Gingerbread is closed on Thanksgiving Day. Events run through December 15.
Saturday, November 30, 1 to 3 p.m. Create Your Own Ornament
Sunday, December 1, 1 to 3 p.m. Holidays around the World Special music by Kyrou from 1:30 to 2:30 p.m.
Saturday, December 7, 1 to 3 p.m. Visit Santa Claus at The History Center!
Sunday, December 8, 1 to 3 p.m. Storytelling by the United Way's Real Men Read and Women United
Saturday, December 14, 1 to 4 p.m. "Science of Sugary Structures" Explore sturdy (and not so sturdy) structures by making your own edible creation.
Saturday, December 15, 1 to 4 p.m. Cookie Decorating Party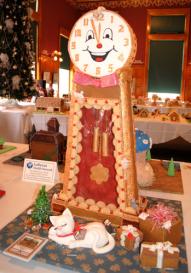 Insider Tip: Time your visit on the weekend to take part in these special events. Also, be sure to allot enough time to enjoy the entire museum along with the gingerbread displays. Here you can learn about the rich history of Fort Wayne and Allen County. Fun children's activities are part of the museum too!
The History Center is located in the heart of downtown Fort Wayne at 302 E. Berry St. Admission is FREE for children ages 2 and under, $3 for seniors and children and $5 for adults. Additional fees may apply for special events during the Festival of Gingerbread. Please call or visit the museum online for hours of operations and further details.