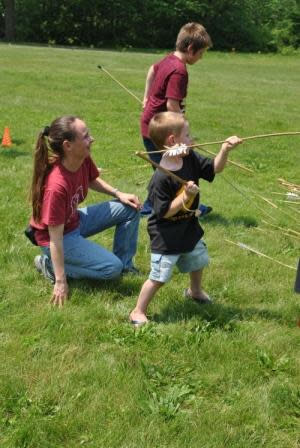 Experience an important part of Fort Wayne's Native American heritage through Miami Indian Heritage Days. This cultural celebration kicks off Saturday, May 5 at the Chief Richardville House, 5705 Bluffton Road, Fort Wayne.  Sponsored by the History Center, Miami Indian Heritage Days programs are held from 1-4 pm on the first Saturday of the month, May through November.  What can visitors expect? The event promises local artists, performers, and representatives from the Miami Indians and other Native American groups demonstrating aspects of their heritage.
Saturday, May 4, 2019 (1:00-4:00), Traditional Miami Indian Drumming, Singing and Dancing with the Medicine Woman Singers
Saturday, June 1, 2019 (1:00-4:00), Fiber Arts: Cording and Twining with Greta Sirios
Saturday, July 6, 2019 (1:00-4:00), Cookware from Local Clays: Making and Using Replica Native Style Pottery with Erik Vosteen
Saturday, August 3, 2019 (1:00-4:00), Miami Ribbonwork with Diane Hunter
Saturday, September 7, 2019 (1:00-4:00), Miami Harvest: Edible and Usable Plants and Materials with Dani Tippmann
Saturday, October 5, 2019 (1:00-4:00), Wiikiaami Cattail Matting at the Longhouse with M.I.A.M.I. (Miami Indian Alliance of Miami Indians)
Saturday, November 4, 2019 (10:00-5:00) and Sunday, November 3, 2019 (1:00-4:00) Traders' Days
Admission for each Saturday event is $7 adults and $5 students and seniors. History Center members and children ages 5 and under are free. Admission also includes the opportunity to visit the Chief Richardville House. For more information, contact the History Center at (260) 426-2882
*This post was originally published April 2012 and has been updated and reformatted.