Fort Wayne is home to many historic neighborhoods, abounding with landmarks and lore. Take a leisurely stroll down these streets and you'll find beauty in architecture and friendly neighbors. Here are a two of Fort Wayne's most notable:
West Central
- It's no coincidence that this neighborhood was once home to an art college. The artistic flair still remains at the core of this corridor and the
Castle Gallery
is proof.  Located in the heart of the neighborhood, at 1202 W. Wayne St., this gallery boasts three floors of art and beautiful architecture. The building itself is a marvel, designed in the Richardsonian Romanesque style.
Speaking of architecture, you can spend half of a day taking in the splendor of the variety of homes in this Local Historic District. No two homes are alike. Many have been restored and renovated, while still maintaining their historical integrity. No doubt front porches are the epicenter of the neighborhood's social scene. In the summertime it is not usual to see people gathering on their porches, with beer or wine in hand. Residents are quick to offer a smile and wave, and maybe even a cold one!
Lakeside -
Lakeside, also just a few minutes from downtown, has its charm with a lush rose park and suburban feel. Make a point to stop by
Lakeside Park & Rose Garden
. Here you can walk/run, play, practice
yoga
or just take in the scenery. Pavilions provide shade and are a great gathering place for groups.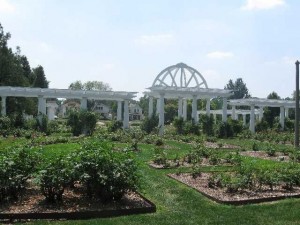 A day in the park can sure whet your appetite. Head down to the
Acme Bar & Grille
, a neighborhood favorite since 1941. Their slogan is "Where Neighbors Meet" and you're sure to meet a few locals here. I recommend their signature pizza, pork tenderloin, hardwood-smoked Acme razor back ribs or chicken wings. Wash it down with one of their many craft beers available on tap. These are just a two of Fort Wayne's historic neighborhoods - you can find more
online
! There are plenty more to check out - which ones should we highlight in future blog posts?