Get ready to "ooh and ahh" as you tour the beautiful, historic homes and buildings that make up the
2012 West Central Neighborhood House & Garden Tour
. This year's event takes place September 8 and 9 in the historic West Central neighborhood, the name locals give the western portion of downtown Fort Wayne. The tour is from 11 a.m. to 5 p.m. both days and features tours of historic homes, gardens and other buildings, all built during the 19th and 20th centuries. The tour also features a West Central Arts Festival, which displays visual and performing artists and their works -- many of which are from the West Central neighborhood. Tickets for this year's event at $12 in advance, or $14 the day of. Tickets can be purchased at Umbers Do It Best, at 2413 Lower Huntington Road, in Fort Wayne, or at Antiques on Broadway, at1115 Broadway, also in Fort Wayne.
Past featured structures have included the First Presbyterian Church at 300 W. Wayne St., and a residential dwelling at 802 College St., built in 1910 as a Prairie Style home.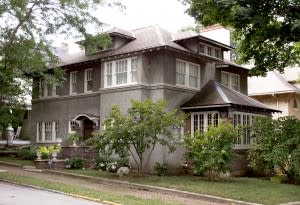 Questions? Call 260.385.WEST to reach the West Central Neighborhood Association or
visit the West Central Neighborhood House & Garden Tour online.
Please note that while the home tours end at 5 p.m., the arts festival continues until 8 p.m. Saturday. Additionally, the Arts Festival is free to the public! All events are located in the heat of the West Central neighborhood.