My boyfriend and I are always looking to check out new and interesting restaurants/bars in Fort Wayne. On a recent Saturday we were pleasantly surprised by our visit to Hideout 125. This place can be best described as a modern speakeasy, although you wouldn't know it from the exterior. The building is located in a strip center off of Coldwater and Dupont, on the northwest side of town.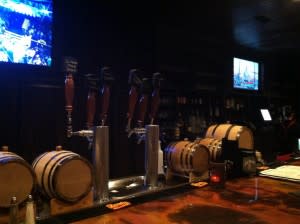 Once inside the bar, you feel like you're transported into Al Capone's era. Think lower lighting, exposed brick and servers dressed in uniforms reminiscent of the 1930s. The food and drink complemented the atmosphere.
While I didn't get to sample any of the menu offerings (we were there for cocktails), I was impressed with the variety and complexity. For example, you can order a Chicken Pot Pie appetizer that has a specially topped crust with fried chicken skin and asparagus wrapped in prosciutto. Talk about a foodie's dream! They have already earned a reputation for their appetizers, which can be best described as tapas. Their main courses include such items as steak, pasta, chicken and seafood. Next time we will be sure to eat there for a full meal!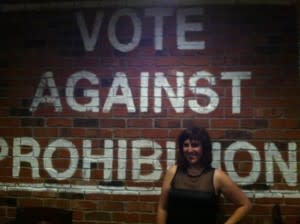 But what I can tell is their drink menu is sure to please anyone, from the most low-brow tastes (PBR), to whiskey aficionados. In addition to their beer and wine on tap (yes, wine on tap!) and bottled options, they also have an impressive mix of specialty cocktails.
I ordered the St. George Tonic, which had the usual gin and tonic water, along with some botanicals and honey. One was definitely enough! It finished strong with a strong honey taste. My boyfriend ordered the Raspberry Hammer, which can be best described as refreshing and effervescent--perfect for a summer night. The servers checked on us regularly and seemed to be knowledgeable. The bar had filled up by the time we had left. I think the word is spreading quickly about this place.
Hideout 125 is located at 10350 Coldwater Road. See their Facebook page for more information.