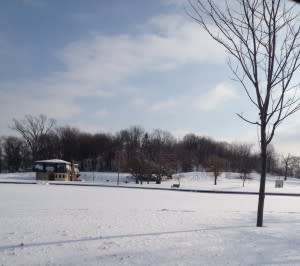 Located just southeast of downtown Fort Wayne is one of the best kept secrets around- a hidden-in-plain-sight treasure that it seems only the surrounding neighborhood kids have been lucky enough to find. Its official name is Ivan Lebamoff Reservoir Park, but the local kids (and adults!) know it simply as the Reservoir. It has a small playground and a generous-sized basketball court, but its real claims-to-fame are the gigantic reservoir itself and the towering "mountain" on the southeast side of the 13-acre park.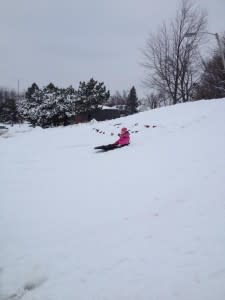 A mountain just outside downtown? Yep, you read that correctly. OK, so it's not a "true" mountain when compared to others, but it is certainly taller than a hill and it takes quite a hike to reach the top. Once you're up there, though, it truly is something else. You can see all of downtown and a good bit of the surrounding areas in all directions.
I believe that the dense tree cover is the reason most people can drive by this side of the park every day and not even look twice. What's so great about a so-called mountain, you might ask. I'll tell you. The sledding, of course!
There are about four or five sledding lanes that run down the sides, and all of the local kids can tell you which ones are faster, slower or bumpier. The most popular one (The Big One) is on the southwest side. You can climb up to the first, second or third level (very top) and sled down, depending on your adventure level! And just for the sake of full disclosure, this mom is a second-level thrill seeker.  
Sledding at the Reservoir makes for a great winter's day. There are even several smaller hills for the little kids to enjoy. As we get deeper into winter, and the temperatures have been below freezing long enough, the reservoir becomes a breathtaking outdoor ice skating rink. (It is VERY important to note here that there is a flag pole beside the reservoir.
If the flag flying on this pole is RED, that means that it is NOT safe to ice skate. If the flag is GREEN, that means it IS safe to ice skate.) When the flag is flying green, bring your friends and your ice skates and have fun! So, if you and your family and friends are looking for somewhere to get out and enjoy the snowy weather, consider heading down to Reservoir Park.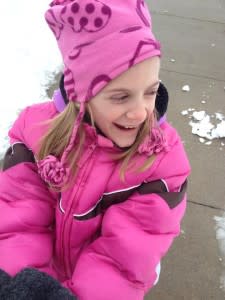 It's never too crowded, always beautiful and has something for everyone to enjoy. And when your noses are bright pink from the cold and your cheeks rosy from the wind, take a minute to just be still and take in the nature around you- then hop in your car and swing downtown for a well-deserved mug of hot chocolate! Reservoir Park is located at 2300 Clinton Street.