I love live music. In particular, I love live music outdoors. There's just something about listening to live music on a warm summer night – whether it's one of my favorite bands or an artist I'm hearing for the first time – that, as an experience, cannot be beaten. In just a couple days (on June 9, to be exact), I'll be sitting outside at the Foellinger Theatre here in Fort Wayne listening to one of my favorite '60s groups, Herman's Hermits, performing with original lead singer Peter Noone.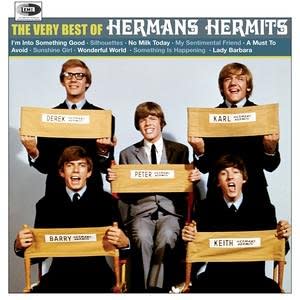 I have to thank my parents for instilling in me an appreciation for all kinds of music: in this case, 1960s British pop music. One of the top bands of the era, Herman's Hermits, are best known for hits like "Henry VIII" and "Mrs. Brown, You've Got a Lovely Daughter." If you've ever seen
The Naked Gun: From the Files of Police Squad!
, you may remember a hilarious montage set to another Hermits' hit, "I'm Into Something Good." Without a doubt, though, my favorite of their hits is "There's a Kind of Hush" – it's a perfect piece of pop music I'd rank with The Monkees' "Daydream Believer" and many of the Beatles' early hits. The Foellinger Theatre is a great local outdoor venue, so come on out and enjoy what is sure to be a fantastic show. Tickets are $25 for Reserved Seating and $20 for bleacher seats. Purchase tickets online at
www.fortwayneparks.org
, by phone at (260) 427-6000, or at the Parks & Recreation office, 705 East State Boulevard, Monday through Friday from 8:00 a.m. to 5:00 p.m.