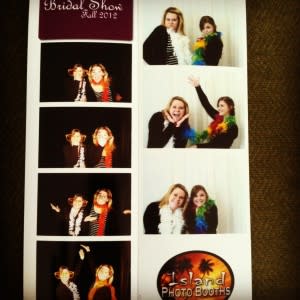 Planning a wedding can be a magical, wonderful and stressful experience. Trust me, I know! Just shy of being married to my wonderful hubby for one full year, the experience of planning our wedding is still fresh in my mind. One of my favorite things to do when we were engaged, and especially when we first started planning our big day, was going to the different bridal shows in town! If you are a lucky bride to be, you're in luck! The Bridal Spectacular at the Allen County War Memorial Coliseum is just around the corner! The annual Bridal Spectacular was definitely my favorite of the many bridal shows I dragged my family and friends to over the course of my nearly two year engagement. The Coliseum Expo Center is transformed into a room of true wedding planning goodness! There are tons of local vendors scattered around wanting to show off what they have to offer for your special day. You'll find everything from bridal gown boutiques, to local salons, to invitations, all the way to the honeymoon! While exploring everything the Bridal Spectacular has to offer, it can definitely be a lot to take in! In my days of happily wedding planning bliss, I found a few tips and tricks really helped me to make these great bridal shows fun and enjoyable!
Make a plan. It's always good to have some kind of game plan when attending a bridal show. Whether you're just bringing along a friend, or have a whole crew in tow, if you're not all on the same page there can be a lot of confusion! Scope out the layout of the vendors and decide where you an to start and go from there. I always felt a little better picking a starting point and making the rounds from there until I was back at the beginning. If you're game plan is to divide and conquer, make sure everyone knows what vendors they're in charge of seeing and where you're meeting up. I attended one bridal show with a bigger group that all decided to wander rather than stay together. By the end I had multiple copies of information and goodies that half our group was missing when the other half was ready to go!
Don't feel like you have to stop everywhere. Everyone in wedding world is amazingly nice. They all love weddings and really do just want to help you! But, that doesn't keep them from being a little pushy and making you feel like you must stop at every booth and take every handout that's thrown your way. The very first bridal show I went to I stopped and talked to EVERYONE and took all of the little giveaways and fliers I could get my hands on! I ended up A. being crazy overwhelmed when I sat down to look at it all and B. ended up throwing over half of it away. Pick the vendors you're truly interested in. Yes, it is great to get a variety of information, but you really don't need every informational handout about weight-loss wraps and hot tubs!
Take people whose opinions you trust and WANT. If you are planning your wedding, I'm sure you already know that every relative, friend, coworker and random person on the street has an opinion about YOUR wedding. Bridal shows are really a place where a lot of information is thrown at you, so having people with you who will keep you calm and whose opinions you really value is important. Take a family member or friend that has experience with vendors. Bring along a couple of your bridesmaids to see if anything catches their eye. Invite someone that really "gets" you and can give some input into what you're seeing at the show. I always took my mom with me, and also had a couple of my bridesmaids and family friends along as well. While I heard a lot of different opinions just walking through the vendors from my companions, they were opinions that I needed and wanted to hear!
Pay attention to the fashion. Bridal shows are a great place to see wedding dresses! The Bridal Spectacular always has great fashion shows showing off local bridal stores' bridal gowns and bridesmaid dresses in action. Whether you've already started hunting for the perfect dress, or are just starting to think about it, it's really great to be able to see some wedding dresses on real women. There were dresses from local shops I had seen on the rack, or online, that I loved (or hated) that looked totally different when a real person was wearing it and walking in it. Not only is it a great way to see some pretty gowns, it's also a great chance to be introduced to some of the great local bridal boutiques we have in the area. I discovered the bridal store I found my wedding dress at at the Bridal Spectacular!
ENJOY. You're planning your wedding! This should be a fun and happy time in your life! The Bridal Spectacular, and other bridal shows, are a great chance to make it a girl's day out and soak in the fun that is wedding planning. Some of the best memories from planning my own nuptials were made at bridal shows. It's so fun to really start the planning process with some of your favorite people in tow, surrounded by other ladies who are soon to be happily wed just like you!
The Bridal Spectacular will take place on Saturday, January 3rd and Sunday, January 4th 2015 from 12pm-4pm each day at the Allen County War Memorial Coliseum. Admission is $10 per person, and $5 for parking. Make it a a full-blown Girlfriend Getaway to make it even more fun! For more information, check out Visit Fort Wayne, the Bridal Spectacular website, or the Memorial Coliseum website.