If you're in the mood for a substantial serving of meat and bread with some real zing, then check out the Caliente Cuban Café in Fort Wayne, Indiana.
"Caliente," is a pocket-sized restaurant with big windows and a lot of personality. Painted orange and yellow, it's hard to miss when you're driving on State Street, just west of the intersection with Crescent Avenue. In the summertime, outdoor tables are available. There is some seating inside the restaurant, too. Plus, Caliente just opened up a downtown location on Wayne Street!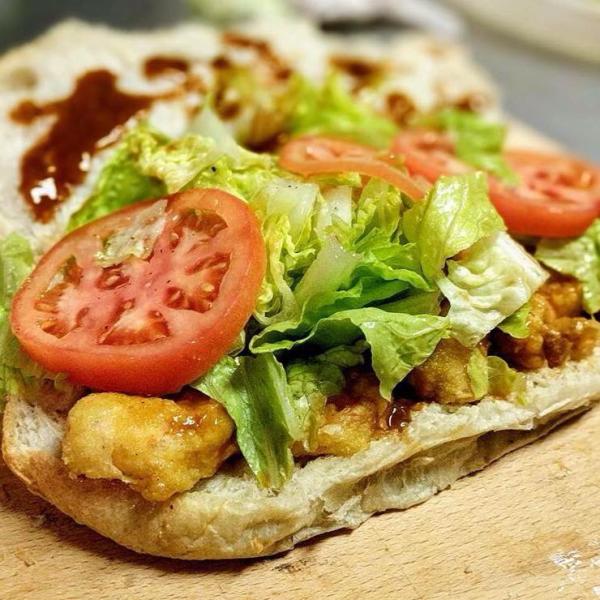 Fresh tomatoes, chopped lettuce, and zesty sauce...
Caliente Cuban Café - Fort Wayne
Just walk up to the counter inside and make your selection from the menu. There are plenty of sandwiches to choose from: the Cuban Sandwich (of course!) features pork, ham, pickle, onion, mustard, cheese, mayonnaise, and jalapenos. There is also the Po'Boy, which can have either shrimp or beef – or both – smashed inside a large bun with lots of shredded lettuce and sliced tomatoes. (Do ask about the special sauce on the Po'Boy; one of the owners invented the recipe, himself.)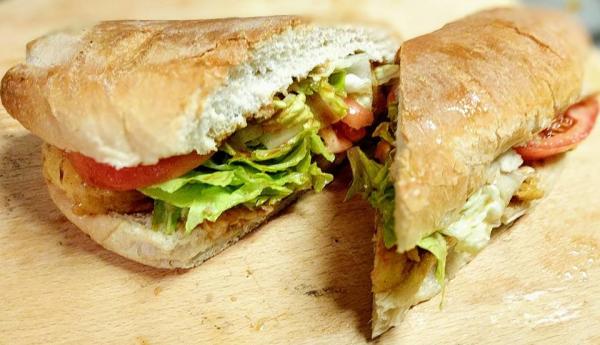 Looks tasty, doesn't it?
The barbecue sandwich, too, is very good. There's enough sauce to season all the finely shredded and small-chopped meat, yet it's a fairly tidy sandwich. Or check out the Yoyo – it's a sandwich with fried plantains, instead of bread, holding it all together.
Sides, like fried plantains, papa rellena, (deep-fried potato balls with seasoned meat filling and optional sour cream), tamales, and garlic bread are also available. Peruse the menu just to see what is there.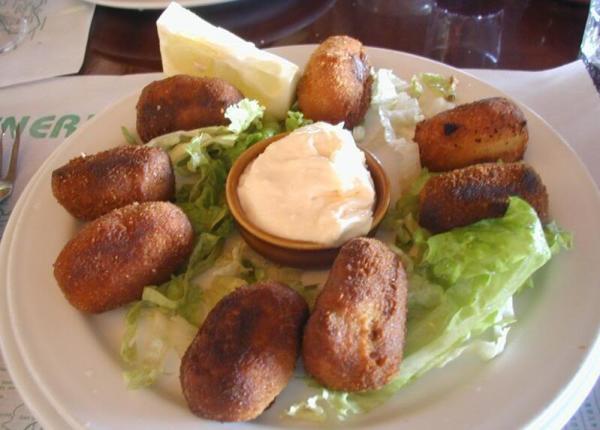 Don't these appetizers look tasty?
Now, it should be noted that Caliente is true to its name – foods can be quite spicy-hot, for those who are sensitive to peppery foods. But, not to worry; if you aren't a big jalapeño or onion fan, just ask the friendly cook to leave those parts out. They do a really good job of making sandwiches just the way you order them.
And if you have kids or someone along who isn't ready to try something spicy or new, Caliente has hot dogs, French fries, chips, mozzarella sticks, and other things that will satiate the tamer palate.
Portions at Caliente are large. A regular sandwich is enough for either one large meal or a meal and a hearty snack later on. Regardless of the type of sandwich you order, the fillings are generous and the plain white bread is toasted to a crusty crunch. Warning: if you order the Po'Boy sandwich meal, there will be no side offered, as the sandwich is enormous enough.
If you want to call ahead to make your order, Caliente is open to that, too. They welcome the chance to prepare before you walk through the door, especially if you order late in the day or have a large order.
Caliente is open seven days a week, starting at 11 a.m. every day. They close at 9 p.m. Monday through Friday, at 6 p.m. on Saturday, and at 5 p.m. on Sunday. Call them at (260) 471-0700, or walk right into the restaurant at 1123 East State Boulevard.