The Salomon Farm Fiber Arts Celebration is one of the most unique family-friendly events in northeast Indiana. How often do you have a chance to step back in time to the simple farm life of the 1930's and immerse yourself in the texture, colors and sounds of that era? The sweet aroma of flowers, hay, and freshly turned earth is like no other. This two-day celebration, Friday May 18 and Saturday, May 19, is filled with entertainment and hands-on demonstrations designed to promote and preserve our heritage of natural fiber production and traditional textile art. Most of the activities are free. Others may require a small fee for materials. Here are a few of the highlights: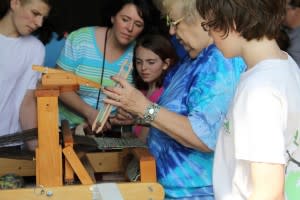 Hands-On Activities and Demonstrations: basket weaving, wet felting, tatting, card-weaving, crochet, rug hooking, sock cranking, spinning Shopping: yarn, looms, soaps, fleece teddy bears, hand-made products, fiber for spinners and felters, tanned lambshide throws and rugs, raw fleeces, blown goose eggs, decorated gourds, finger puppets, food and beverages, and much, much more.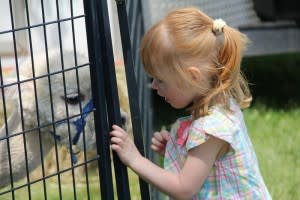 Live Animals: Huacaya alpacas, Lincoln Longwool and Suffolk sheep, Romney sheep ewe with her lambs, goats, donkeys, sheep and chickens! Salomon Farm Park is located at 817 West Dupont Road. For more information about Salomon Farm and the Fiber Arts Celebration, visit www.fortwayneparks.org.