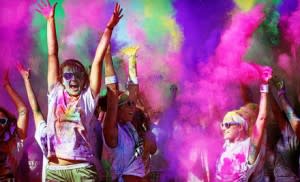 There are not one, not two - but THREE colorful runs coming to Fort Wayne! These are: Color Vibe on April 5th, The Color Run on April 26th, and The Neon Vibe on May 10th. What exactly are color runs? These runs are known for the non-threatening, fun environment. In fact, if you look up The Color Run, Color Vibe, or Neon Vibe, you will see them all described as "fun runs". What exactly is a fun run? This means that the event is not timed and lacks the "intimidation factor" that other organized fitness events can have. While these runs are 5k events, each one has few tricks up their sleeves to bring on the fun!  Participants are showered in colorful powder, are encouraged to wear crazy outfits, and fun and dancing are highly encouraged! With all of the color runs coming to town, you might be wondering what makes them different and why you should participate in something that involves being covered in colors. Here is a little breakdown of what you can expect at each!
Color Vibe Color Vibe is coming to the Allen County War Memorial Coliseum on April 5th. The 3.1 mile run is infused with color. Runners start the race with a clean white shirt only to pass through four color stations along the course to end up with a bright and vibrant tie-dye shirt at the finish. The point is not to race, but to literally become a canvas of color, be active, and share a life experience with friends and family. The thought behind the creation of Color Vibe was to give people who may not necessarily be runners, a chance to get active without dreading the activity and live a little more colorfully. That way instead of walking away thinking "why did I do that?", you'll be thinking "I can't wait to do that again!".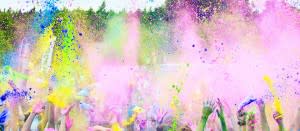 The course for Color Vibe begins at the Memorial Coliseum and takes you through the surrounding neighborhoods and trails. You will be blasted with color at four color stations throughout the course, and will find a dance party and color throw at the finish line! You can register now through March 31st for $40, or the day of the Color Vibe for $50. Your registration fee gets you entry to the 5k race, an official Color Vibe tshirt, a Color vibe color pack and a prize. You can register online here.
The Color Run Known as the "Happiest 5k on the planet", The Color Run is known for bringing a colorful, fun time for all! While The Color Run has come to Fort Wayne in the past, the 2014 Color Run is bringing something special this year with the Kaleidoscope Tour. Whether it's new runners getting ready for their first 5k, or seasoned athletes remembering what it feels like to just run for fun, the Kaleidoscope Tour promises to be an unforgettable event that will be filled with 5k magic. Some of what you can expect from The Color Run Kaleidoscope Tour is:
Life-size kaleidoscope triangles
Viewfinder kaleidoscopes
Confetti filled balloons
Rainbow arches at the finish
Bubble
New participant gear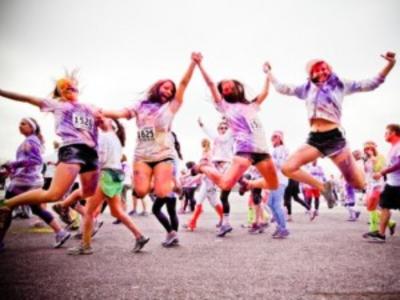 The Color Run will take place on April 26th at Parkview Field, home of the Fort Wayne TinCaps. Participants will start on the field, and go through the surrounding neighborhood before finishing back at Parkview Field. There will be four color stations along the route. The start-window begins at 8am, with new waves going every few minutes! You can register in a team of 4 for $35/person until April 1st, or $40 for an individual participant. After April 1, the registration fee is $40/person for a group or $45 for an individual. Your fee will get you an official Color Run race kit, a custom tshirt, tricolor headband, a Color Run shoulder sling bag, temporary tattoos, and more! You can register for The Color Run here.
The Neon Vibe New to the color run scene in Fort Wayne is The Neon Vibe. The Neon Vibe is a little different from Color Vibe and The Color Run, in that it takes place in the evening rather than during the day. On May 10th, at the Allen County War Memorial Coliseum, come ready to glow! This after-dark colorful run brings all the fun of of a "traditional" color run with a new twist, glowing neon color powder that lights up under black lights! Each course is designed to light up the night with several UV black light glow-zones, upbeat dance music, and amped runners who are dressed up and ready to party. Although it is a 5k and you can run as hard as you'd like, most just want to light-it-up, have a good time, and dance their way to the finish.

The Neon Vibe kicks off at the Coliseum at 9pm, and promises to be a color run like you've never experienced. Registration is going on now, and is $40 (plus a $3.95 online processing fee). Your registration fee includes a Neon Vibe shirt, as well as a a glow packet. You can also order additional merchandise while you register, or on the night of the event. You can register online here. Are you ready to get colorful? Grab your family and friends and sign up for one of these colorfully fun runs today!